To mark International Women's Day (Sunday 8 March 2020), Story Homes is highlighting the important roles women play in our business and the expanding opportunities within the construction sector.
The housebuilding industry is often thought to be male dominated with national figures showing only 12.5%* of women working within the industry – Story Homes boasts a workforce which is 33% female and continuing to grow.
Story Homes is continuing to celebrate the women we employ across our many departments and regional offices across the North of England; including Cumbria, South Scotland and the North East and North West England, with women being encouraged and supported to embark on roles in all departments including Commercial, Technical, Sales, Finance, Production and Land and Planning.
On International Women's Day, we asked our female employees– what piece of advice would you give other women looking to work in the construction industry?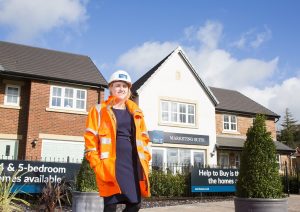 Evonne Hitchen, Finance Director North West
Lancashire born Evonne knew she wanted to work in finance from an early age. Over the last three and half years, she has worked her way up from Finance Manager with two promotions to Finance Director for the north west and sits on the Regional Management Team. Evonne encourages women to work in construction, saying: "Go for it! Work hard – it takes time for employees to learn how to achieve the high standards and quality of homes the company requires. There should be no barriers to women working in the industry, no matter what area you work in. It's about recruiting the right person and there really is a role for any woman at Story Homes and we welcome applications from women for all roles. Have a goal and strive towards it."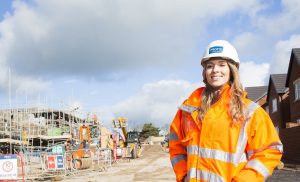 Emma Dolan, Quantity Surveyor North West
Merseyside university graduate Emma, originally studied to become a Lawyer, however after finishing her course she knew she wanted to work in the property industry. She completed her Masters in Real Estate and Property Development and joined Story Homes on its Graduate programme. Emma has been with Story Homes for two and a half years, and within this time has been promoted twice from Graduate QS to QS within the Commercial team. Emma said: "Honestly, it's hard work but worth it! I've found challenges but it's often people who are set in their ways who have being doing things for years who are unwilling to accept a woman who is straight out of university! You've got to be confident in what you do and know that your opinion is worth something! It can be challenging sometimes – you've got to remember that you've worked for it just as much as everyone else has. It's all about balance- but ultimately do it!"
Amanda Stephenson, Land Manager North East
Amanda's background is in finance but when she moved across to housebuilding, she obtained a HNC in Construction and the Built Environment – of which she was the only female in the class! Amanda has worked at Story Homes for 16 months and aspires to become and Land Director. Her piece of advice for other women is: "Don't be discouraged by the fact that the industry is predominantly male dominated especially in the more senior roles."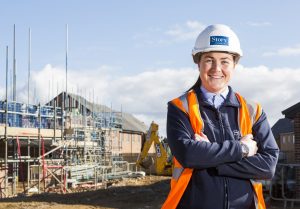 Lauren Bates, Safety Health and Environmental Advisor North East
Lauren started her career in sports science; however, she soon followed her family's footsteps working in construction. It was always in the back of her mind to go into construction somewhere along the line and she enjoys her role as no day is the same in Health & Safety. Her piece of advice is: "I would thoroughly recommend a role in construction. There are more and more women coming into the industry all the time – there are opportunities in all areas not just as a trade but as project managers, engineers and H&S. So, if you're looking for a role – be confident, bring experience and knowledge – just go for it!"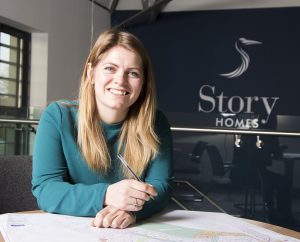 Jade Hall, Design Manager Cumbria & Scotland
Jade has family members in the construction industry, and always had an interest in architecture. She wanted a job where she could be creative, get out and about and be challenged by something that is fast-paced or evolving; something varied and where no two days are the same. Jade was sponsored through her BSc(Hons) Architectural Technology degree by a Carlisle based Architects practice, meaning she gained a lot of experience whilst also learning. After working in Architectural practices for nearly 10 years, she then made the move to Stobart Rail and then Story Homes. Jade's advice is: "Don't hesitate! I have never had any negativity or resistance that has led me to regret my career path or career choices. Females add such a different perspective so generally really benefit a team environment. I have always felt fully supported by my peers in all the places that I have worked."
From design and site management, to marketing and accounting, there are so many different career options within the housebuilding industry and Story Homes, which complement a wide range of skills and qualifications.
Find out more about careers opportunities with Story Homes here
*GMBUnion – 24 October 2019