Story Homes staff attend Skills Fair
February 2015
Story Homes was just one of the local businesses which attended Carlisle Skills Fair at The Sands Centre on Thursday 29 January. The event, which was hosted by Carlisle MP John Stevenson, was aimed at those looking for career advice and many of our staff were in attendance offering helpful hints and tips to visitors.
Jonny Whitaker, 22, of Carlisle is currently managing a popular bar in the city centre and wishes to look for a career which offers a creative and dynamic future with many long-term prospects. He said: "Story Homes has a high profile and they are popping up everywhere, so I thought that I would visit the stand and talk to staff about my career prospects. I have been impressed with the opportunities that are available with the company."
Jonny spoke with Graham Parker, Technical Manager (Engineering) who commented: "Story Homes is expanding quickly and we are looking for enthusiastic people just like Jonny. This fair is an excellent way for us to meet potential employees that we shall need to fill our skills gaps in the future."
The fair was well attended and Story Homes staff were kept busy with many individuals asking for advice on the wide-range of career options available within the company: from HR to marketing and from design to planning.
We shall be introducing an exciting new apprenticeship and graduate scheme in the future. Fran Stott, Head of HR at Story Homes explained: "These events help us promote the types of opportunities open to the people of Cumbria. Story Homes will be starting some fantastic schemes in the near future and today has been a brilliant opportunity for us to start talking to prospective applicants. The feedback we receive is invaluable in ensuring our graduate/apprentice and work experience programmes act as a key enabler to the Story Homes ambitious growth plans."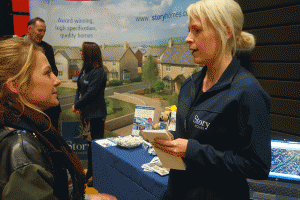 A-level student, Emma Chalmers, 18 is currently at The Nelson Thomlinson School in Wigton and is quite sure of which direction her career is going to take. Emma enthusiastically talked about her ambitions: "HR really appeals to me and I would love to work in this field: I'm a very organised person. I arranged the Year 11 leavers' party for our school, which was great experience."
Emma was given advice by HR Advisor, Helen McGuinness as to the routes into working in HR and various options open to her. Emma says: "Someone I know recommended Story Homes as an employer so I thought I would come along and ask their advice. They've been very helpful."
John Stevenson was delighted with the turnout and commented: "Carlisle Skills Fair 2015 was a great success and the Sands Centre is a fantastic central location in Carlisle. The variety of businesses that support the event contributes to its appeal and highlights the vast array of opportunities available in our City.
"Carlisle Skills Fair is important to Carlisle. It demonstrates that Carlisle has a good offer of apprenticeships, skills and training opportunities as well as businesses that cover a range of sectors. The training providers' contribution to sponsor the event demonstrates that it is a much needed event for the city."
To find out more about working for Story Homes, click here.