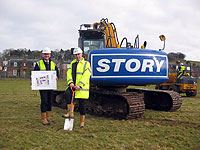 The 41 houses are being built by Story Homes on land which belonged to the Auction Mart and is now surplus to their requirements. In line with Government aims for sustainable communities, the development will also offer affordable housing on the site.
'Sydney Gardens', as the development will be known, is ideally located within the town. There is a bus stop immediately adjacent, allowing easy access to shops, employment and schools, which again fits with Government guidance to reduce reliance on the private car and effectively utilise land which has good links to a range of services.The railway station is also close by.
The new development takes into account the demand for housing in Lockerbie and caters for most needs. It has been designed to provide substantial open space to the frontage of Sydney Place to lessen the impact of the development on existing residents. Additionally there will be a significant amount of open space within the development, which will help it to develop into a thriving community.
The development itself comprises of a mix of 2, 3 and 4-bedroom properties incorporating an exciting mix of semi detached, detached and terraced styles, all with attractive exteriors and thoughtfully designed interiors. The houses will be traditionally built, to the usual Story Homes high specification including sanitary ware from Kohler and kitchens from AEG/Electrolux Group.
Speaking at the launch, Chief Executive of the Story Group, Fred Story said: "I am delighted to see construction of this new scheme get underway. The continued delivery of high quality housing is a key priority for our company.
Fred added: "This development will provide much needed new homes in Lockerbie and will give a great boost to the people of south west Scotland. Buyers can look forward to moving into these superb properties from late autumn 2010."
Story Homes is an award winning builder, having won a Daily Mail UK Property award for its Summerpark development in Dumfries for two years running and short listed for a Scottish Homes award for the same development in 2009. The company currently has several sites throughout Cumbria and south west Scotland.
To register your interest in this development contact Story Homes on 01228 404555 during normal office hours.