Story Homes School Sports programme is set to expand to new areas thanks to its ongoing success and positive feedback.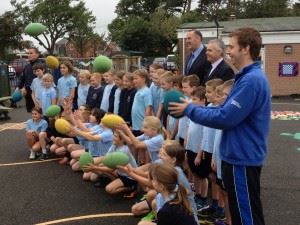 Heading into its third year, the 2014/15 programme will support nine local schools, with Allerdale and Copeland Schools now invited to take part.
A number of schools have already been selected by Story Homes and SPAAF to receive an application pack. These will be sent out at the start of May, with a deadline of 16 June 2014 for the completed application forms to be returned. Five schools from Carlisle, two from Allerdale and two from Copeland will be chosen judged on which schools will benefit most from the Story Homes funded coaching.
Since the school sports programme started in 2012, it has grown to support nine Carlisle Primary Schools with funded sports coaching, delivered by the Sport and Physical Activity Alliance Foundation (SPAAF) coaches.
Hundreds of pupils have benefitted from weekly coaching sessions; learning new skills, teamwork, staying healthy and having fun through sport. An annual sports festival for all of the schools celebrated the new skills learned throughout the year.
Feedback from the schools has proved that the children have enjoyed the sports coaching and also benefitted greatly from learning new skills and taking part in regular physical activity with the SPAAF coaches.
Fiona Manuel, Head Teacher at Newtown Community Primary School said of the schools involvement: "I would just like to thank you all very much for the opportunities that you have provided our children.  Everyone who was involved has benefitted greatly and I cannot commend your coaches enough. It has been a privilege to work with you and I have my fingers crossed that we may be able to retain our involvement in the future."
Fred Story, Chairman of Story Homes said: "The school sports coaching programme was an opportunity for us to help local school children have fun through sport, and also learn new skills, keep active and improve their health and wellbeing at the same time. By giving back to the local community in this way, we hope to achieve some long term benefits for the pupils and their families. I am really pleased with how the school sports coaching programme has progressed, originally supporting five schools but now reaching nine schools. It is very rewarding to hear that the children are enjoying the programme and using new sporting skills out of their school environment."
If your school has not received an application pack but you would like the chance to participate, please contact Tracy Calvert, PR and Communications Manager.