Storey's of Lancaster Football Club  has received a major boost after securing a sponsorship deal with award-winning house builder Story Homes.
We have two developments based in Lancaster, and our High Wood development is proud to support the team, who has some players and parents living in our homes. We have funded brand new kits for four teams U10s, U11's and two senior teams.
Storey's of Lancaster FC, which has been established since the early 1900's, received new shirts, shorts and socks thanks to our sponsorship deal. Each kit is adorned in the club's customary blue and white colours with the Story Homes logo on the front of the shirts.
Chairman of Storey's of Lancaster FC Dave Benson, said: "Every year it's getting harder and harder to find sponsors so Story Homes' donation is such a kind offer. We also carry out lots of fundraising events to support the teams too.
"Story Homes is an established house builder in Lancaster and everyone has heard of them. It's great to see that some of our players and parents live at High Wood and for Story Homes to support them is a fantastic achievement.
"Receiving this sponsorship makes it a lot easier for us so we want to say thank you very much."
David O'Reilly from Story Homes, said: "We are thrilled to be able to offer our support and sponsor the full team at Storey's of Lancaster FC. The football team are an integral part of the community and hopefully this support will help the team go from strength to strength.
"We are extremely proud of our track record in supporting organisations like this and our role in building sustainable communities.
"We are expanding our presence in the North West and are dedicated to reaching out to the local community and supporting local clubs and organisations.
"We hope the boys and young men love their brand new kits and we wish all the teams every success in the new season ."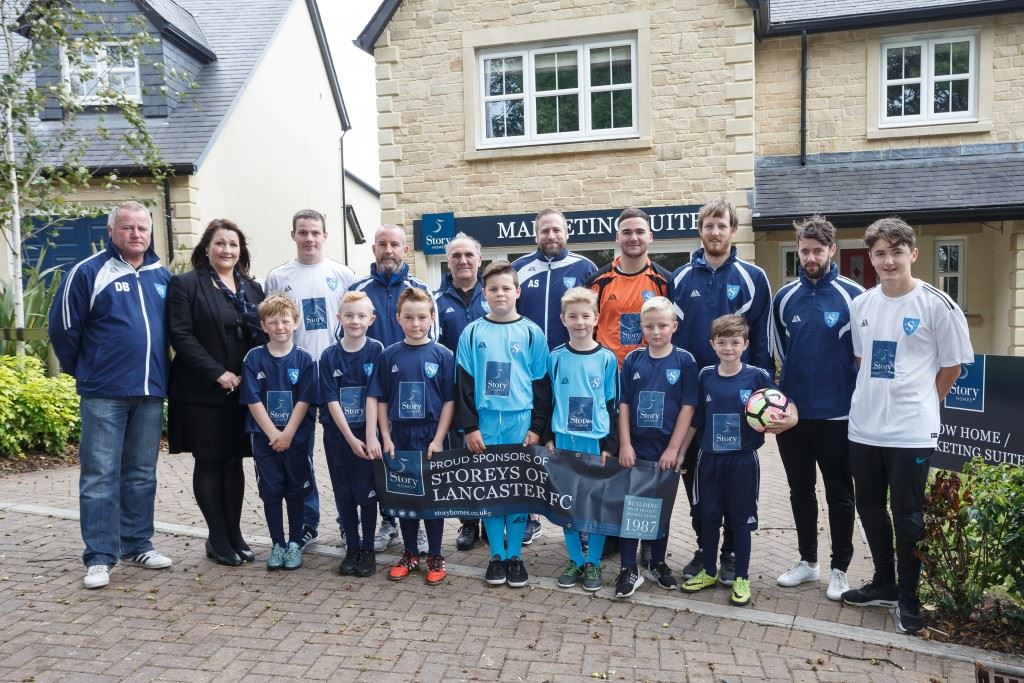 Award-winning development High Wood, in Lancaster, is an executive development of 3, 4 and 5 bedroom properties which are superbly finished to a high specification. Whether you're looking for your first home, wanting to move to a larger family home or even downsizing, our range of 12 house types are sure you inspire you. There is truly something for everyone.
High Wood has so much to offer, where the lifestyle is relaxed and it is perfectly placed for getting around the city of Lancaster and all the amenities it has to offer plus good local schools and transport links.
For more information visit our development at High Wood, please call in and speak to Lorraine who is available Thursday to Monday from 10.30am to 5.30pm.
Click here for further information about Storey's of Lancaster FC