Ian Storey, Technical Director at Story Homes, test drives the BMW M4 – and discovers a head-turning, super-sporty car with plenty of throttle

This two-door, four-seater coupé certainly packs a punch; a 3.0 litre twin-turbo engine delivers 431 horsepower with 0-60 in a nimble 4.1 seconds – and with a top speed limited to 155mph, it has plenty of muscle.
The design is on par with every detail considered, from the black extended Merion leather interior to the sleek dash – and even the wing mirrors are a minor miracle of modern art.
The M4 is one marvellous motor car – and is noticeably larger and wider than its already well established relative, the M3. On the market for £63,090 as tested, buyers will certainly get a lot of bang for their buck with this model.
The car I test drove had quite a few extras, including a 7-speed M DCT Double Clutch gearbox, 19" black alloy wheels, surround and reversing cameras, blacked-out rear windows, a head-up display – and last but definitely not least – an uprated entertainment system with internet and online access to music (over 22 million songs to be precise).
Out on the road, the M4 was very easy and comfortable to drive around town, with great seats providing real comfort. When unleashed, it was phenomenally fast – both in a straight line and around corners.
The handling was amazing and I could overtake in the blink of an eye. It also made a fantastic noise that could just about wake the dead – halfway between a shriek and a wail is how I'd describe it! My two kids both loved it, as did my uncle – although the wife was not so sure! The neighbours would also probably not be quite so welcoming, particularly on a quiet morning when they want to have a lie-in.
This is a car that turns heads and I certainly received some envious looks – both in the Story Homes car park and while out on the road. The gadgets are top notch – the surround camera means you can poke the nose into traffic at junctions and see clearly in both directions.
The head-up display projects speed, revs and navigation info onto the windscreen, what seems like about 20m in front of the car so you don't have to take your eyes off the road and the gearbox is also ultra-quick and reduces emission – very good for the environment apparently.
When thinking about how to describe it, I liken it to the car equivalent of being a kid and having a mate knock on the door asking you if you want to play – it's a car that just wants you to have fun. After it went back, I found out that some colleagues were drooling over it and wanted a go – if only they'd asked…. If the dealership fancied loaning me the car again, I could start working through those 22 million songs on the stereo – it would be a terrible chore but I'd persevere!
Phil Howe at Lloyd BMW was a star in making me feel welcome, taking me through all the controls before I went o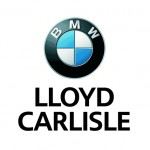 ut – and he even had my own car valeted while I was driving his pristine car down mucky country lanes.