THE DESIGN INTERVIEW
October 2016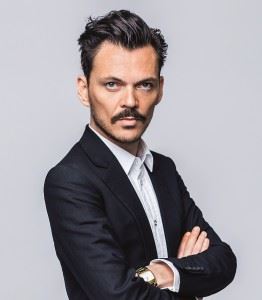 Matthew's move from fashion to furniture 
The iconic British fashion designer Matthew Williamson has been applying his trademark kaleidoscope of colour and pattern to his first bespoke range of furniture in collaboration with British furniture makers, Duresta.
What inspired you to create your first bespoke furniture collection this year?
It's been an ambition of mine for a long time – I've loved interior design since I was a boy, and it was a natural step. Fashion is the core of my brand but we also design and sell wallpapers, sunglasses, stationery and furniture.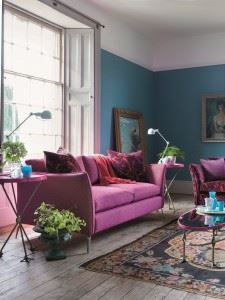 You've chosen to work with British brand Duresta for your first furniture range. What was behind your decision?
It's a real passion project for me. I wanted to work with Duresta because it makes its furniture by hand in the UK with real attention to detail by a great team of craftsmen. It's been a pleasure to immerse myself in a new and fascinating area of design.
Seeing all the work that goes into a great piece of furniture was a real eye-opener for me – from hand-carving the wooden frames to the guy cutting the fabrics to ensure each print matches up on the furniture, and the lady sewing cushions with beautifully piped edging.
Where did you look for inspiration?
Mostly by looking at the pieces I own myself – most of them are things bought from antique markets or dealers over the years and adapted. I collect samples of anything that catches my eye, so I enjoyed building a collection from my favourite pieces.
Who are your favourite designers, both fashion and interiors?
My favourite designers are Ossie Clarke, Zandra Rhodes, Christian Lacroix and Dries Van Noten.
What's your own home like?
It's a Victorian town house with good bones – the rooms are large with high ceilings and great original details, so dressing it was a dream.
It's changing all the time. I love to move things around to keep it fresh – adding a few small touches here and there can help to update your look. Flowers, candles, cushions, book piles and pictures are easy ways to add areas of interest.
What are the things you like best in your home?
My lozenge-shaped lounge is my favourite room. It has an old wooden barrel door, original parquet floors and big bay windows. I started with a neutral colour scheme and added furniture and items I've collected to add character and tell my own story.
My most treasured items are inexpensive, sentimental pieces – for instance, a necklace with charms picked up on my travels and a bowl of rocks collected from the beach.
What did you learn from creating furniture with Duresta?
It's fascinating to step out of your comfort zone and pick up new skills and work on different projects – I loved it. The time, patience and craftsmanship put into every piece by the team at Duresta was fascinating to see
Branching out from fashion to furniture is already a major step – but do you have any further developments on the cards?
I've launched a collection of stationery and more recently, a range of sportswear. There's also going to be a designer colouring book by the end of the year – and after that, I'd like to take a look at children's wear and chinaware. I love to look at new areas of design in which to bring the DNA of the Matthew Williamson brand to life.
View the Duresta for Matthew Williamson collection at duresta.com.