Preliminary construction activity began in early 2016 with the first homes expected to be released for sale in the summer.
The impressive development of sought after new homes located on Eastway in Preston, will feature a superb collection of 2, 3, 4 and 5 bedroom terraced, semi-detached and detached properties.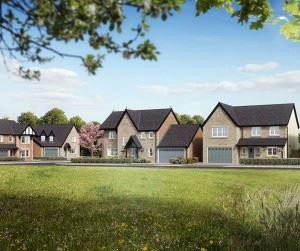 As well as bringing much needed high quality properties to the market to help achieve growing demand for housing in the town, the development will deliver up to 15% affordable homes for local people. The affordable housing element includes 45 homes which will be sold through the shared equity where a purchaser buys a percentage of the property and has the opportunity to buy more shares up to 100% ownership.
David O'Reilly, Head of Land and Planning at Story Homes said "We're really excited about this development. As well as boasting a high specification throughout, the homes will feature attractive exteriors adding to the charm of the area and creating the stunning street scenes for which Story Homes is renowned.
D'Urton Manor will help sustain existing local services while the economy will also be boosted through the creation of hundreds of jobs over the life of the development, both directly and indirectly through subcontractors and the supply chain."
The development will also benefit the wider community as Story Homes will be contributing:
• £300,000 public transport contribution
• Extensive highways improvements including a new road link between Eastway and D'Urton Lane, new pedestrian crossings and a new three metre shared foot and cycleway to Eastway.
If you are interested in the development please register online and as soon as we are able to provide more information about D'Urton Manor we will be in touch.