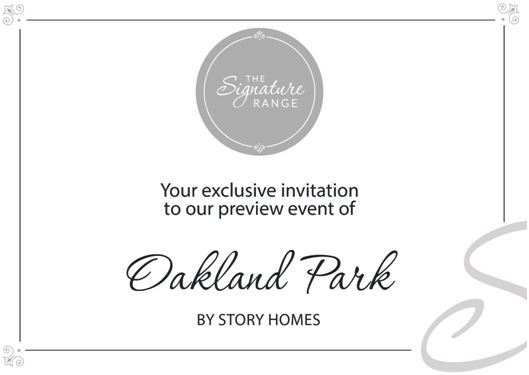 We hope that you can join us at our preview event for Oakland Park, Morpeth at Linden Hall on Friday 28 October 2016 between 3.00 – 7.00pm.
This exclusive collection of 39 homes is the first Signature specification range to be released by Story Homes, offering the highest specification internally and externally.
Visitors to the preview event will be able to view the range of eight new four and five bedroom house types which have been designed exclusively for Oakland Park. They will also be able to find out more about the high specification which is offered as standard, including electric garage doors, Laura Ashley kitchens, double ended baths and overhead showers.
Those interested in securing a home at on the development will be able to place an early bird reservation on selected plots at the preview event, ahead of the sales release in November. An Independent Financial Adviser will be on hand to offer financial advice.
With more than 200 registrations of interest from potential buyers, the collection of homes is already in high demand.
Anita Onal, sales manager for Story Homes in the North East, said: "The launch of Oakland Park in Morpeth is a significant step for Story Homes – not just in the North East but company-wide. Already well-known for our high specification homes, the Signature range goes one step further to offer customers a very superior finish.
"The development brings a very special product to Morpeth which we expect will be very well received."
Watch our fly through video to bring to life how the development will look. Don't forget to register your interest below to receive exclusive invitations to future events and news about Oakland Park.