The reception children from Bransty Primary School enjoyed a day out to the Story Homes'  Waters Edge development in Whitehaven.
The children. aged four and five, were studying a house building related topic as part of their curriculum activities and their teacher Elaine Fisher thought that a visit to a real life site would enhance their learning, so she arranged for the children to visit the development.
The visit started off with a meet and greet session with Builder Bear, the Story Homes' friendly mascot. A firm favourite with children, the bear helps to get across the health and safety message across in a fun and engaging manner.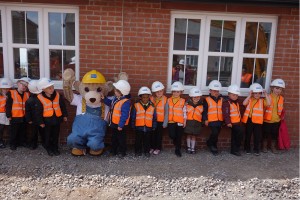 Sean Trodden, Health and Safety Manager went on to explain the dos and don'ts of a building site and the children listened intently taking time to ask some key questions afterwards.
Site Manager Barry Spedding and Assistant Site Manager, Kevin Christian arranged for the children and teaching staff to visit an unfinished house to describe and explain house building materials and different trades that are employed to complete a house from start to finish.
Barry said: "Considering the children were very young, they asked some really insightful questions and I was very impressed at how much information they were taking on board. It was lovely to welcome them to site and hopefully we'll have some future young builders or joiners amongst them!"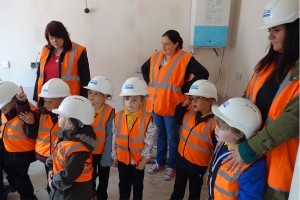 The children were then taken to see the 'finished product': the 'Banbury' show home which opened to visitors in May 2015. The show home is a spectacular three bedroom detached home which offers a spacious living area and commands excellent view over the Irish Sea.
At the end of the visit, the children were then presented with their very own miniature Builder Bear to take away as a memento of their outing.
For further information on the Waters Edge development, click here or call 07790 832640.