Customer spotlight: Inside the Masterton
June 2021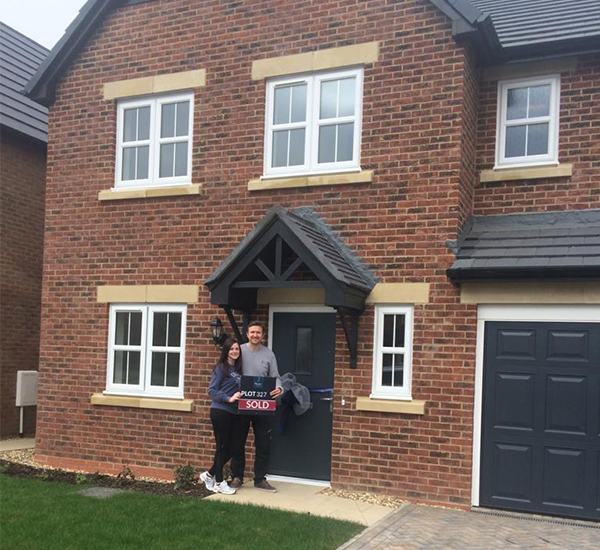 Our customers Sarah and Ben Grainger have recently moved into their Masterton, a 5-bedroom detached family home at D'Urton Manor in Fulwood, Preston. This impressive property is part of our new range of homes that have a real focus on flexible living, featuring a large open plan kitchen and dining area, along with a separate snug or study space, giving plenty of room for all of the family.
Sarah, a Primary School teacher, and Ben, an engineer, have two children, 8 year old Jack and 5 year old Sienna, along with adorable labrador Max who is just 1 year old. They have found the spacious Masterton to be the perfect home for busy family life.
We caught up with Sarah to see how they're settling into their new home.
What made you choose the Masterton?
"We loved the space it offered and the particular plot we chose had a large garden. Even we didn't realise how big the Masterton was until we were living in it. There's so much usable space and we are still taking our time planning out how we want each room.
We were also specifically looking for a new build. Neither one of use had ever lived in a brand new house and it was something we had wanted to do for a few years. We liked the idea that we would be the first to live here and that we could choose all the options throughout the house."
What are your favourite design features?
"We love the layout of our home. We absolutely love the kitchen, dining and family area and the large island in the middle of the kitchen is stunning. The bi-fold doors in the kitchen make the room feel even more spacious and they allow the room to continue out into the garden. We also really like that the living room is at the back of the house and that it opens straight out onto the garden too."
Why D'Urton Manor?
"We already lived in Fulwood and love the area. We chose D'Urton Manor as it fit perfectly with the catchment area for good Secondary Schools for our children."
Why did you choose Story Homes?
"We have spent many (many!) years looking for the right house and we found we always came back to the Story Homes sites. The house quality just seems to be on another level. We loved that the sites look like little villages and that the houses all had varying brickwork. We found that you received more as standard with Story Homes than you did with any other developer."
Tell us about your new build journey?
"We visited quite a few Story Homes show homes over the past few years, from Lancaster to Grimsargh. We loved the varying styles of each show home and how spacious they all felt. We used Help to Buy to purchase our new home, which gave us the opportunity to use money from the sale of our previous house for investments for our children.
We have recommended Story Homes to a number of friends and a family member, and will continue to do so. The service we received and are still receiving since moving in has been nothing short of outstanding. Our Sales Executive Karen was extremely helpful with everything, from choosing the right style of house for us, helping with the sale of our previous home, assisting with choosing our options, to easing any worries about the sales chain. She was amazing! The Site Managers, Joel and Nick, have gone above and beyond to make sure we are settled in our new home and nothing has been too much trouble."
D'Urton Manor in Fulwood features a diverse collection of 4 and 5-bedroom homes for those that want bigger and better. You can find out more about this beautiful development and the house types available here. Or, if you're specifically interested in the Masterton, you can view our show homes at Elston Park, Strawberry Grange and Priory View, just contact the Sales Executive at the development to book a 1-2-1 appointment.