The rugby club are calling for people to lend a hand and work through the long list of DIY jobs to get the clubhouse ready for the new season.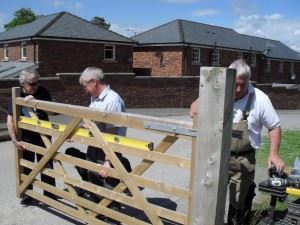 On the weekend of 25 and 26 June Cockermouth Rugby club players and volunteers will be giving the club its annual deep clean and maintenance.
Story Homes who are building their new development Strawberry Grange in the local area, have match funded the event and will be encouraging staff and subcontractors to help out on the day.
Coach Chris Wright said "Even if you can only help out for a couple of hours, you would be more than welcome. We need volunteers with or without tools. There are lots of odd jobs to do and the more that turn up to help, the quicker we can get the barbeque lit and enjoy a cool drink from the bar!"
"Please bring with you power tools, brushes, mops, buckets etc and more importantly, plenty of enthusiasm. A big thanks to Story Homes for helping us buy the kit we need to get the clubhouse spick and span and ready for season ahead."
Site Manager Mark Warren said "We're happy to be able to help out. It's a great community space for families providing a fantastic opportunity for kids and adults to get outside, run around, be a part of something, and enjoy themselves. We're building family homes, right on the clubs doorstep so club numbers are likely to swell in the years to come!"
If you are want in help out on the day just show up, or call Chris Wright on 07789 991774.