Story Homes has helped to light up a local community this Christmas.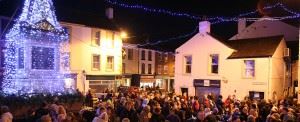 Thanks to a donation of £1000 from Story Homes, the towns Christmas lights were brighter than ever.
The donation was made to Wigton Town Council to support the annual appeal to decorate the town with lights to celebrate the festive season.
Feedback from town residents proved that it was money well spent as the community came together to celebrate.