Affordable housing helps young family to live locally
June 2013
For a young family, finding an affordable home close to where you have grown up is not always easy.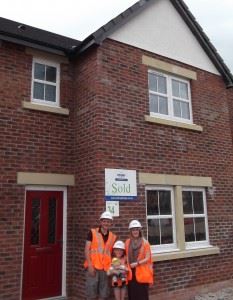 For Zoey Teasdale and her husband Colin, the search for an affordable property near Great Clifton was proving very tough. However, their search was over when they found a Story Homes property at Mabel Wood, Great Clifton.
Zoey, Colin and their seven year old daughter Ellise, are delighted that they will be moving into their dream home this summer, and even more delighted that they are paying a discounted rate for it.
Zoey, a document controller at Sellafield said: "We had been looking for something in Great Clifton for a long time. We both grew up here and our daughter goes to the local primary school. We had rented in the village for years and then moved back in with my parents to help us save for a deposit. The house at Mabel Wood couldn't have come at a better time for us."
Zoey, 32, and construction worker Colin, 35, have been able to take advantage the seven affordable properties on the site. The low cost element comes from Story Homes selling the properties at 20% below the market value, in order to make them within reach of the budgets of the community and to help local people like Zoey to get a foot on to the property ladder.
The family's move comes at a time when Allerdale Borough Council is consulting on their local development plan and future housing needs up to 2028. The emerging plan will identify gaps in housing provision and is likely to reveal a lack of affordable housing for local people in the Borough.
Zoey said: "We had heard rumours that there might be a new development in the village and we were keen to find out more. I went along to the Council's planning meeting and I was really supportive of the scheme because it's hard for families like us to find a reasonably priced quality family house in this area.
"We wanted to stay in the village we grew up in and there was nothing else available in our price range. The development has improved the village too so it's been a great benefit to us and the rest of the community.
Daughter Ellise is also excited that the family are going to have their very own home. She has been on a site visit to the development with her classmates from Derwent Vale Primary School, arranged through Story Homes' health and safety team. The educational visit, attended by mascot 'Builder Bear' gave them an insight into how houses are built as well as the dangers of working on a building site.
The development at Mabel Wood offers 46 semi-detached, detached and terraced properties to the market, with the majority of them already sold, many to local people.
For more information about Mabel Wood call Carreana on 07980749151 or visit: www.storyhomes.co.uk