Application submitted for new homes at Cottam Hall, Preston
March 2015
Plans have now been submitted for a development of new homes at Cottam Hall in Preston.
North West developer Story Homes is seeking detailed planning for 283 homes on the site, which already has outline planning permission.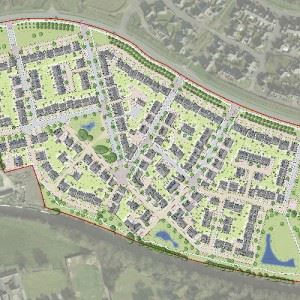 The development will bring a number of benefits to the local area, including a new public open space for the community. Up to 30% of the homes will also be classed as affordable and designated for rental or sale for local residents, in line with Preston City Council policy. Story Homes uses local sub contractors and suppliers where possible, delivering economic benefits and job creation back into local area.
Paul Fenton, Development Planner for Story Homes said: "This site will bring with it a number of key benefits for the community and economy and is also fundamental to the delivery of housing needs in the local area, with Preston City Council aiming identifying a need for 507 new homes per annum until 2026 to help meet demand. Story Homes builds high quality and high specification homes and the proposed design and layout will complement the local area and bring a high standard of new homes to the market in Preston."
The site, North West of Preston City Centre and close to the Lancaster Canal, is part of a wider development promoted by the Homes and Communities Agency (HCA).
Once completed, the full site will include up to 1100 new homes, retail, commercial and community facilities including children's play areas, open space, landscaping and associated infrastructure such as footpaths, cycle routes and ecological mitigations measures.
Stuart Sage, Head of Area for Lancashire and Cumbria at the HCA, said: "This is another important step in Cottam Hall's ongoing development. We have worked very closely with Preston City Council and local residents to ensure that the development coming forward is in keeping with the local area, as well as providing much needed affordable homes. The scheme will also provide an exciting new park and a new section of tow path along the Lancaster Canal which will offer open space and new facilities for residents. Proceeds from this development will make an important contribution to the Preston, South Ribble and Lancashire City Deal, assisting in the delivery of infrastructure for the wider area."
Outline planning approval for the site was secured by the HCA in March 2013 and since then, land has been sold to Barratt Homes and development is underway.
For more information about the application click here.