An award-winning site manager has decided to start a new chapter working for Story Homes' on our new development in Wynyard, County Durham.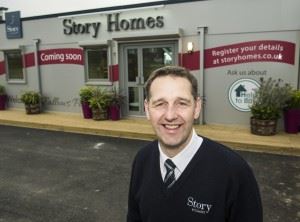 Steve Cook, 44, of Wolviston Village, near Billingham, said: "I joined Story Homes as it is a family-owned business with great pride in its work and product.
"Story Homes is making waves in the region at the moment among the house building community because of its successes and the quality of product. At Fallows Park we're continuing that drive for quality – the show home foundations will go up in the next week or so and we have a sales launch in late November."
Steve joined us as Site Manager after his former employer Yuill Homes ceased trading earlier this year where he was employed for 10 years.
He has been extensively awarded for his abilities winning, three years in a row, the NHBC Quality Award which aims to find Britain's best managed building sites. On top of this he has been awarded the best site manager both regionally and nationally.
Steve explained why he decided to join Story Homes. He said: "I came to work for Story Homes as we have the same beliefs, pride and a passion for quality homes.
"Story Homes use certain products that are more expensive and a better quality in places that the customer will never see them, but they improve the quality of build. You won't see the joists and the flooring but they are of a much higher specification and that also applies to the designs, renders and materials. Story Homes invests in the better product."
"Fallows Park is an executive development of four and five proper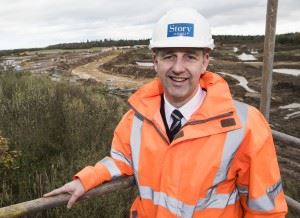 ties and for me it's the design features, elevations, attention to detail and customer focus that make Story Homes stand out – and why I'm proud to say I work for the company."
Production Director Frank Lincoln said: "We are delighted that Steve has joined our team at Story Homes. His professionalism and attention to detail are of the high calibre we aim for at Story Homes making him a valuable addition to the workforce."
We have developments across North East England, Cumbria, Lancashire and Southern Scotland. In 2015, we anticipate delivering more than 550 homes across its development portfolio. Already winner of many UK Property Awards, we are one of the most commended housebuilders in the country.
Find more information on Fallows Park, Wynyard here.