YOU CAN AFFORD MORE THAN YOU THINK WITH HELP TO BUY.
With a Help to Buy: Equity Loan, the Scottish Government lends you up to 15% of the cost of your newly built Story home, so you'll only need a 5% cash deposit and a 80% mortgage to make up the rest. This means you can afford more than you might think, so you can secure your dream new home. You won't be charged fees on the 15% loan for the first five years of owning your home and it can be paid back at any point or upon the sale of your home.
EQUITY LOAN EXAMPLE ON A £200,000 STORY HOME PROPERTY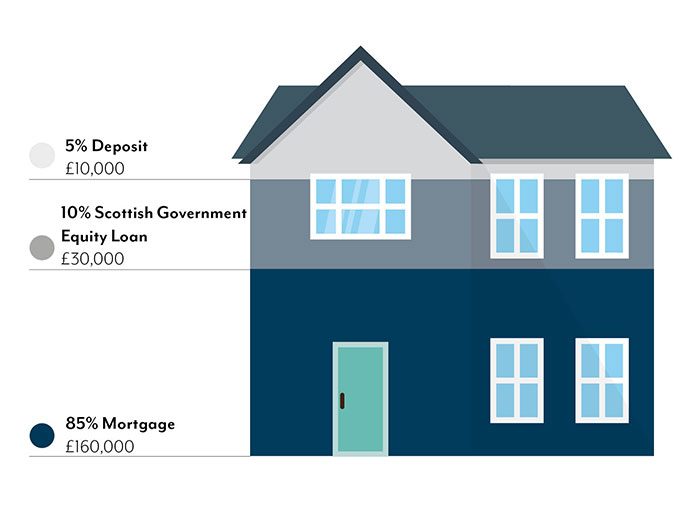 Who can use Help to Buy?
Currently anyone can use the scheme, whether you are a first-time buyer or already own a property, subject to meeting the relevant eligibility criteria.
Do I need repay the equity loan?
Yes, you can pay this back at any time or upon the sale of your home. It is an interest free loan.
Can I put down a bigger deposit?
As a minimum, you need a 5% deposit to use the Help to Buy scheme, however you can put down a larger deposit which would reduce the equity loan you receive from the Scottish Government. For example, if you reserve with a 10% deposit, the equity loan will be 10%.
Can I use it on any Story home?
Help to Buy can be used on all of our properties, on our Scottish developments, up to the value of £200,000.
How can I find out if I can use Help to Buy and afford a Story home?
You can speak to one our Sales Executives who will give you the contact details of an independent financial advisor, who can advise you what you can afford and whether Help to Buy is right for you. Don't worry, we have other schemes to help get you moving if Help to Buy isn't right for you.
Pentland Reach
Biggar
3 and 4-bedroom homes
from £329,950
Pentland Reach has a range of beautiful apartments, semi-detached and detached homes with character on the inside and out, located in the charming town of Biggar. Each home has been designed...
View Development
Summerpark
Dumfries
4-bedroom homes
from £269,950
Summerpark has a variety of 3, 4 & 5-bedroom detached and semi-detached homes. This beautifully designed development has been running for over ten years, and every home is finished using...
View Development
Speak to our Sales Executive about how you can secure a well-built, beautifully styled Story home with 100% confidence and just a 5% deposit.
Terms & Conditions
Help to Buy is available on properties up to a maximum value of £200,000 in Scotland. Applicants are required to fund at least 85% of the purchase price by means of a conventional mortgage, savings and any deposit where required. The equity loan is provided by the Scottish Government and held as a second charge. At present there is no set deadline by which purchasers must repay the Scottish Government the equity support which they receive through the Help to Buy (Scotland) Scheme. Help to Buy Scotland is subject to eligibility and terms and conditions.