A local house builder is consulting about plans to build homes on an allocated housing site in Kendal.
Award winning Story Homes is looking to build approximately 40 new high-quality family homes on land off Brigsteer Road, in the west of the town. Members of the public are being asked to have their say before plans are submitted.
The Brigsteer Road site has already been allocated for residential development by South Lakeland District Council as part of their local plan. The authority has identified the growing need for more housing in the district, with demand outstripping supply of homes.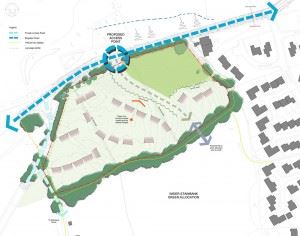 Of the proposed 40 new homes, approximately 14 would be designated as affordable for local people. Story Homes' plans would also include provision for protecting and enhancing the nearby woodland, contributing towards local primary school capacity and the creation of new footpath and cycle path links from the general area into the nearby countryside.
Story Homes Development Planner David Hayward said: "This site has already been allocated for housing so we are preparing our application in close consultation with the Council. This is also alongside the draft Development Brief for the wider allocated site which is known as Stainbank Green.
"We are asking the community to get in touch with their comments, ideas and feedback about our proposal to help us shape this application before it is submitted later in the year."
Story Homes' is renowned for designing and building developments which are in keeping with the local surroundings, through the use of local materials and design cues. Local suppliers and sub-contractors are also recruited wherever possible, creating jobs and investment into the local economy.
Story Homes has been operating in Cumbria for more than 27 years and recently opened its first ever development in Kendal. 'The Beeches' off Natland Road in the town has been popular with buyers since its first exclusive launch event, with one buyer queuing overnight to secure her dream home. Story Homes is also currently promoting 115 proposed new homes at Kendal Parks Farm.
For more information about the consultation or Story Homes, and to have your say, please visit www.newhomesinkendal.co.uk