Consultation to discuss plans for new homes in Blackburn
May 2016
Story Homes will consult with the public on Wednesday 18 May on proposed plans to bring new homes to Blackburn. We are proposing to submit a full planning application to build 192 houses on land at Gib Lane in Blackburn.
Proposed plans include a mixture of three and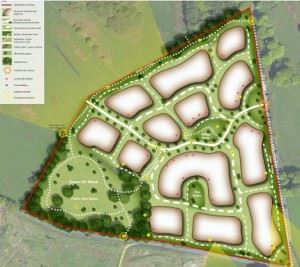 four bedroom family housing. The development will provide the local community with a range of high quality, high specification homesand contribute towards the supply of housing in Blackburn.
We have paid careful attention to Blackburn's different forms of development, architecture, appearance and materials. Each will help to generate the character, quality and distinctiveness of the development, whilst reflecting the vision of Blackburn and Darwen Council's master plan.
The development will inevitably bring economic benefits to the area during the construction phase, including the creation of jobs for local sub-contractors and knock on support for local businesses and supply chains.
Story Homes Planner, Siobhan Sweeney said: "This consultation event is an opportunity for residents from the local area to understand the proposals and come forward with comments to help inform the final plans for the development.
"Story Homes builds beautifully finished, high quality and high specification homes which are built using local materials and labour where possible and will create a community which will integrate well within this area of Blackburn."
Story Homes is well known in Cumbria as a builder of aspirational family homes, having been established in the county for nearly 30 years. Recent completed sites such as The Beeches at Kendal, Whins Farm Close at High Harrington and Mable Wood at Great Clifton have already enhanced communities in Cumbria.
The public consultation will take place on Wednesday 18 May between 5.00pm and 8.00pm at St Bede's RC High School, Green Lane, Blackburn, BB2 4SR.
Following the consultation, all responses will be reviewed and where possible incorporated into the proposed development.
For more information about developments in the planning stage visit our land and planning pages at www.storyhomes.co.uk/land-planning.