Festival of fun celebrates the sporting skills of school children
July 2015
Hundreds of Cumbrian school children came together to showcase their new found sporting skills last week.
Children from nine schools have been participating in a school sports programme funded by Story Homes during the last school year. The scheme is run in partnership with the Sport and Physical Activity Alliance Foundation (SPAAF) and their professional sports coaches deliver sports sessions in the schools. The children not only gain access to regular sports activities but learn new skills.
The festival of sport, held at The Sheepmount in Carlisle, celebrated the end of a fun and exciting year for the pupils.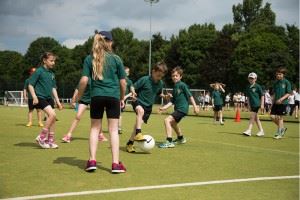 With the sun beating down and the children putting huge effort into a wide variety of competitions and events, the day was an enormous success. Lewis Taylor from Montreal Primary School was announced as the pupil who had put in the most effort on the day and was the proud winner of a Story Homes' mascot Builder Bear.
The schools which have participated in this year's programme were: Brook Street Primary School, Newtown Community School, Monkwray Junior School, Montreal Primary School, Robert Ferguson Primary School, Pennine Way Junior School, St Bede's RC Primary School, St Michael's School and Westfield Primary School.
Mrs Moore, a teacher at Newtown Community Primary School in Carlisle, is a great advocate of the scheme and enthusiastically talks about the benefits that it brings to her pupils: "The scheme is brilliant! Our children have built up an excellent relationship with Michael, our sports coach. He not only helps them to learn new skills, but really encourages them all into after school activities. He passes on his extensive knowledge of sports on to our teaching staff, which in turn we can pass onto our children."
Fred Story, Chairman of Story Homes said: "The festival is a fantastic way of bringing school children together to celebrate each other's achievements and to really enjoy a fun and active day.
"This programme is all about supporting children and teachers in sport and new activities and Story Homes is proud to be associated with SPAAF. We will continue to support the scheme and with ten schools joining us next year, we can encourage more children into sport."
The sports programme is now heading into its fourth year and will be expanding into ten schools across Cumbria and for the first time into Lancashire.
The initiative was set up by Fred Story and SPAAF in 2012 with the aim of keeping the Olympic legacy alive. Keen sportsman Fred was enthusiastic about supporting local children to ensure they all had equal opportunities to learn and participate in sports. To date, hundreds of pupils have benefitted from the weekly coaching sessions. Feedback from pupils, schools and parents has proved that the programme has benefitted the children in many ways, from boosting confidence to encouraging participation in new sports.
For more information on Story Homes' community work and support given to help young people, click here.