The first couple to move in at a new development in Kirkham say their new home is the perfect place to start their journey into married life.
Matt Downing, 30 and his fiancée Sophie Harding, 27 moved from Bolton to the new Brookwood Park development in Kirkham built by Story Homes, and say they couldn't be happier in their new home.
The pair, who are due to tie the knot in November, decided to move from Bolton after falling in love with the site and say that it is the perfect place to bring up a family.
The first time buyers have now settled into their four-bed detached Wellington home and can't wait for their neighbours to move in.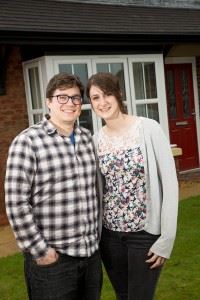 Matt, who is an accountant said: "We had looked online at a number of developments and were impressed by the fantastic reviews we read about Story Homes.
"I've just moved job and am now working in Preston so we decided to come and look at Brookwood Park, we didn't know Kirkham but loved the location as it is surrounded by beautiful countryside.
"Unlike a lot of the other developers, Story Homes build houses that people can actually live comfortably in, the rooms are really spacious and there are a lot of extras that come as standard.
"Everyone who has been to see the house have been really impressed with it, they've all said how well built it is and couldn't believe all the finishing touches we got such as kitchen appliances, turfed garden and tiling in the bathroom.
"At the moment it is a bit surreal as we are the only ones to have moved in, we know that quite a few houses have already been bought, and we are looking forward to meeting our neighbours."
Sophie, who is a doctor, and Matt were able to buy their ideal home with help from the Government's Help to Buy Scheme.
The Government Help to Buy scheme aims to help buyers who have a deposit of at least 5%, by borrowing 20% from the government and take a 75% mortgage to secure their dream home.
Matt added: "Most of our friends already owned their own home but we had been renting. As we were a bit later to buy a house, we wanted to make sure that it was a home we could live in for a long time.
"The Help to Buy scheme has been incredible, it has allowed us to get our dream home and even have enough money to be able to furnish it.
"We are getting married in November and think the house is a perfect place to start our married life and have a family."
For more information on our Kirkham development follow this link.