Story Homes is sponsoring Kingston Park CAFC in Newcastle.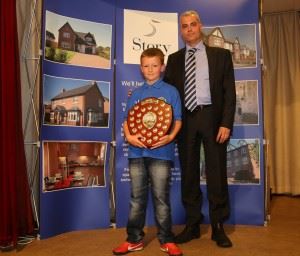 Managing Director Steve Errington kicked off Story Homes' sponsorship of the football club by handing out prizes at the annual presentation night.
The club has 11 different teams and promotes sport, fun, inclusion and competition between players aged from five years old to 18 years old. The teams regularly travel to games across the North East area.
Story Homes has offered to support the club between 2013 and 2016.
Steve Errington, pictured presenting the top goal scorer trophy to under 9's player Luke Leadbeater, said: "The club is a fantastic way for local children to get their first taste of sportsmanship and competition. We are pleased to be able to support this fantastic club and its enthusiastic players."
For more information visit: www.kingstonparkfootballclub.com.