The remains of an old army camp on the edge of Carlisle have been documented in an archaeology survey report.
Hadrian's Camp in the village of Houghton was a former military basic training camp, established at the start of the Second World War and closed in 1969. The site once had a gymnasium, teaching blocks, a cook house, baths and around 120 huts. An archaeological survey and photographic recording undertaken on behalf of Story Homes details the extent of the remains on the site.
The brownfield site already had outline planning permission and housebuilder Story Homes was granted full planning consent for the site in January. As part of the planning condition, Story Homes was tasked with photographing and recording the visible remains of the 20th century military apprentice's school and associated buildings.
Wardell Armstrong Archaeology of Cumwhinton, Carlisle has undertaken the work on behalf of Story Homes, working closely with Cumbria County Council and English Heritage.
Jeremy Parsons, Historic Environment Office for Cumbria County Council said: "The remains of the camp are a very unusual survival of a fleeting, but nevertheless important, event in the social history of Carlisle.  Researching the historical background to the camp and recording its remains have provided a rare insight in what the day to day life would have been like for the people stationed there.
Adam McNally, Development Planner for Story Homes said: "The site was essentially a self contained town with an extensive network of buildings, the full scale of which may have not have been appreciated due to overgrowth on the land and little readily available historical information concerning the army camp. The report shows the extent of the site remains and details the numerous buildings and their assumed uses. The report will be stored in local archives and help build knowledge upon the once extensive military presence in the Carlisle and wider area."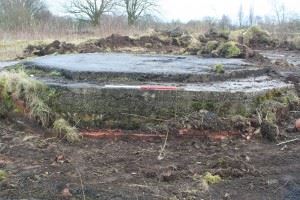 Story Homes is soon to start work on a development of 99 new homes on the site, to be known as Eden Gate, supporting the City Councils need to build at least 565 new homes each year to help meet demand in the area. Up to 30% of these will be classed as affordable and designated for local people in line with Carlisle City Council policy.
The Campaign to Protect of Rural England (CPRE) regularly promote their desire to see former brownfield sites such as Hadrian's Camp brought back into use as high quality housing developments.
For more information about Eden Gate click here.