A 19th century drinking fountain that was removed from a County Durham village more than 60 years ago has returned – in replica form.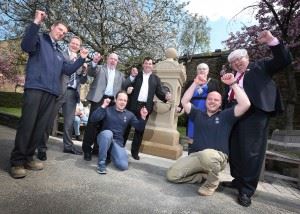 The Pant fountain was erected at the junction of Front Street and Snows Green Road in Shotley Bridge in 1886, marking the arrival of piped water into the village.
It was removed more than 60 years ago as part of a village road scheme, eventually turning up
at Beamish Museum where it can still be viewed.
The Pant has now returned to Shotley Bridge – albeit not the original – as the culmination of a series of improvements to the village.
A local partnership came up with the idea of a replica to replace the removed fountain when considering how to spend money invested in the community by Story Homes and Durham County Council.
North East firm Classic Masonry Ltd was commissioned to produce a stone likeness of the original, which now has pride of place in the village.
Other environmental schemes being funded by Story Homes – as part of The Woodlands housing development at Shotley Bridge – and Durham County Council, are enhanced street lighting, additional parking bays on Cutlers Hall Road, new paving on Front Street and improvements to a planter on Snows Green Road.
The replica fountain was unveiled at a special ceremony on Thursday 12 May.
In attendance were representatives from the various partners, including Story Homes, Shotley Bridge Village Trust, Benfieldside, Blackhill, Bridgehill and Shotley Bridge Community Partnership, Beamish Museum, Durham Constabulary, St Cuthbert's Church, local businesses and Durham County Council members and staff.
Cllr Neil Foster, portfolio holder for economic regeneration, said: "It is really positive to see so many people and organisations coming together to deliver the schemes across Shotley Bridge.
"The installation and unveiling of the replica Pant is a great way to celebrate community pride in their village and the regeneration work that local people have led."
Richard Newsome, planner at Story Homes, said: "We are so pleased that our development, The Woodlands, has enabled Durham County Council and the Shotley Bridge Stakeholder Group to carry out a range of environmental projects which will help improve the village for residents and visitors.
"Story Homes is committed to supporting the communities around our developments, so it is fantastic that we have been able to fund the return of the water fountain to Shotley Bridge after more than 60 years."