Carlisle couple, Melissa and Mark McManus are a step closer to owning their brand new home at The Ridings after selling their own home in just three weeks.
With the help of Story Homes' HOME scheme the couple have sold their home with little fuss or hard work.
When Melissa and Mark visited the Carlisle development they thought that perhaps it would take a while until they could buy the home of their dreams. However, after visiting the marketing suite and talking to Sales Executive, Julie Lamport they found out that their new home could be closer than they first envisaged.
The HOME scheme is for customers who have a house to sell and aren't eligible for part-exchange. It allows customers to reserve their plot for six weeks, while Story Homes arranges for two estate agents to value their home, put it on the market and help to secure the best possible price. The business also works closely with the agents to ensure that the property is actively promoted to ensure viewings are secured and then followed up and keeping customers up-to-date at all times.
Melissa, 27, had nothing but praise for the scheme and says: "We have found the HOME scheme brilliant and the service has been great. Julie has been exceptional as she keeps us up-to-date regularly. Everything has been seamless from start to finish. In fact, the service from Story Homes has been so good, I have already recommended it to my friends who are also now looking to buy at The Ridings."
The couple work in Carlisle and chose The Ridings as the proximity to the city centre makes it handy for them to get to work. Melissa is a solicitor at Cartmell Shepherd and Mark, 36, is a Senior Personal Banker at the Natwest Bank in the city.
Melissa confirms: "We really like the area where The Ridings is located and after we visited the show home we knew that was where we wanted to move to. We love the standard and quality of the Story Homes."
Sales Executive, Julie has helped Melissa and Mark to buy their home and said: "The HOME scheme is a fantastic incentive that Story Homes offer to its customers as it helps people like Melissa and Mark realise that the home they really want isn't out of reach. The scheme has been a great success for Story Homes and we are always looking at ways to make the customer experience smoother and easier.
"Melissa and Mark have been a dream to work with and we can't wait for them to move into their new home!"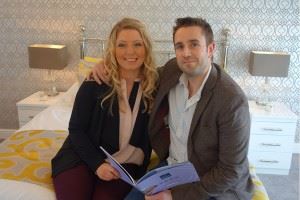 Mark and Melissa are due to move into the new Arundel house in August. The four bedroom detached house will offer them a light and airy living space which will certainly provide them with the dream house they have been hoping for.
For more information on homes at The Ridings click here and to find out how the HOME scheme helps customers, download our leaflet.