Interiors inspiration for your new home
January 2015
The start of a new year is so exciting. It's the perfect time to time to take stock of the things that you love about your home and think about new ideas or interior design schemes that you've always wanted to try.
Magazines are awash with inspiration – the must-have styles of the season alongside trends in colour, print and product.
There's an abundance of choice, so we've picked some of our favourites to help inspire the way that you put your own stamp on your Story Home.
Go green
Green is having a colour moment – combine soft and rich shades to create a fresh living space that works perfectly in a lounge or kitchen.
Key to this trend is creating a kiss of colour by choosing wares or furnishings that pop out against neutral backdrops, such as muted greys or crisp whites.
For an ultra-fashionable look, team warm and earthy key-pieces, such as statement chairs or cabinets in shades of olive or khaki, with fabrics and accessories in softer hues of sage or pear.
Not sure you're ready for a full colour update? Printed cushions and pot-plants in leafy shades will work just as well to bring the outdoors in.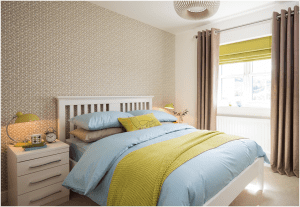 The 'Warwick' is a stunning show home at our Cairns Chase development in Cumbria.
Pile on the print
Perhaps a little more daring than the airy and sophisticated green trend – geometric prints are back in the style-spotlight.
Though its bold colours and graphic prints might seem a little brave – the great news is, it's a timeless look.
Think symmetrical curved or angular patterns with clean lines and pops of contrasting colour.
While it might sound a little intimidating, geometric works best in flashes. A feature wall, with cushions and curtains peppered in print, makes for a perfect nod to the trend, while a statement rug and tall standing vase will do just the trick for those looking to dip their toe in.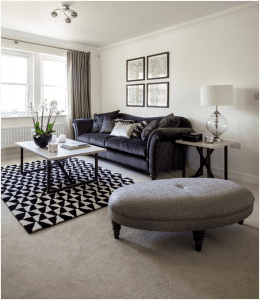 The 'Warwick' four bedroom detached show home at Cairns Chase, Workington.
Pick a Pantone
Each year Pantone, the world-renowned authority on colour, brings together a committee of world-wide experts to decide on the annual shade that will become the 'new black'.
For 2015, its Marsala 18 – 1438, an elegant, robust, red wine colour which, according to Pantone, works to enrich our minds, bodies and souls.
Rich and rustic, it seems a perfect fit for creating an elegant bedroom or plush parlour.
Lavish your walls in a warm Marsala-inspired paint or incorporate the colour into your sleeping space with draping curtains and beautiful bedding.
Head to any furniture retailer and their showrooms will be awash with this super-seductive shade.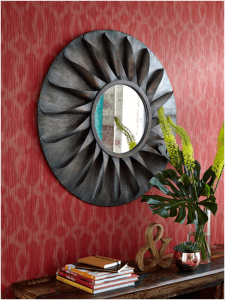 Image courtesy of Barker and Stonehouse
Inspired to go for a colour-change in your new home? Share your pics on our Facebook page; we'd love to see them.