Kirkby Stephen community get sporty for charity with donation from Story Homes
September 2013
The Kirkby Stephen Community have been getting sporty to raise money for local good causes.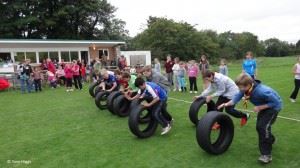 The annual sports evening is raising money for Kirkby Stephen Primary School, the local Scout group and the Mountain Rescue team.
The fundraising has been started off with a £1000 donation from Story Homes towards these good causes.
The school intend to use any funds raise to put towards a classroom refurbishment while the Scout group will subsidise activities for children, ensuring that every child gets a chance to participate. The Mountain Rescue team will used the funds for training opportunities.
The family friendly event will take place on 28 June at Kirkby Stephen Cricket Pavillion.