Schoolchildren in Lazonby welcomed the Aviva Tour of Britain to the village, kitted out in yellow t-shirts provided by Story Homes.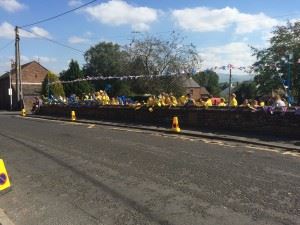 The event, organised by Parent Governor Ali Herdman through Friends of Lazonby, took place on Thursday 10 September as hundreds of cyclists passed through the village at around 1.30pm.
The school held a 'day of fun' thanks to a grant from Eden District Council. Local artist Ben Gates also created a piece of artwork visible from the sky. John French also delivered archery to the children throughout the day.
Olympic and world champions flew past the excited children as they also challenged themselves to collectively cycle the length of the fifth section of the route. The pupils received engraved medals and also a signed Sky Cycling jersey for their school thanks to their combined cycling achievements.
Lazonby is in stage five of the event, as the cyclists head to Hartside Fell from Prudhoe, passing through villages on the A69 and the A6.
Story Homes is currently building a development of 48 homes in Lazonby. The Meadows development is bringing a mix of 2, 3 and 4-bedroom homes, including a number of homes designated as 'affordable' for local people.