Lending a helping hand for local girl in Whitehaven
August 2013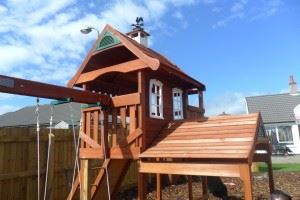 Story Homes has helped a young girl in Whitehaven by creating a garden she can use safely, all year round.
After being approached by local couple John McCormick and Kelly Johnston, Story Homes Site Agent Stewart Norris took on the project to make a new piece of land safe for John and Kelly's eldest daughter Tia. The property on Wastwater Road, Whitehaven, is close to Story Homes' development Magellan Park.
Stewart and his colleagues spent any free time at work levelling out the land, building a fence and covering the area with mulch/ bark provided by Westwood Landscaping.
Tia, 10, has behavioural problems, with doctors recommending that outdoor play would help to calm her and keep her behaviour under control. Tia was born 15 weeks premature and has a number of health issues. As well as severe autism, she has severe learning difficulties, chronic lung disease, she is being tested for ADHD and she has other unidentified issues.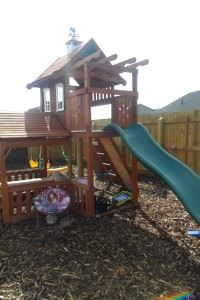 John , 36, and Kelly, 34, were given outdoor play equipment by the Snowball Fun at Sellafield, and the local council granted them use of some additional land behind their Home Housing property.
John said: "We are really grateful to everybody who helped to make the play area possible. Tia has had a fantastic time playing out there and we know that she is safe. She plays out all the time and is delighted with the new toy. We have seen a huge improvement in her behaviour and we can't keep her indoors anymore!"
Tia now plays out in the garden for hours with her little sister Jaden, 8, and brother Mason, 4 and her family can rest assured that she is safe at all times.