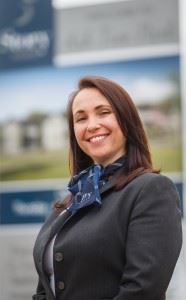 Sales executive Jane has recently joined the company after working in property sales for more than 20 years. Jane is located at our third development in Kendal.
Greengate Meadow features a collection of 49 detached and semi-detached two, three, four and five bedroom homes in the beautiful village of Levens in Kendal. Jane is currently located on our Ash Tree Park development and will move in to the marketing suite at Greengate Meadow in Autumn.
We caught up with Jane to find out more about her role and why she loves working for Story Homes.
What does your role involve?
Our sales executives pride themselves on being friendly, flexible and efficient, providing a professional and personal service which is second to none. I am the face of our Greengate Meadow development in Kendal, meeting customers and introducing them to our aspirational homes. I take every customer through the home buying process – managing their customer journey whilst delivering an exceptional service from beginning to end. I build a strong relationship with the site team and together we deliver and exceed our customers' expectations.
Why did you decide upon this career path?
I have worked in sales for 30 years – of which 20 years have been in the property industry! I felt my knowledge and experience would fit this role perfectly. I have to have a passion for what I sell and truly believe in the product. The aspirational and desirable quality Story Homes creates gave me just that. My research on the company highlighted that they are a leader in the house building industry with ambitious plans for growth. I am hoping that this will give me the opportunity of future career progression.
What do you enjoy about your job?
I genuinely love meeting new people. My role is to help them through the buying process from how to secure their dream home to going through their choices which gives their home that personal touch. It's the best feeling in the world handing over the keys to a home we are proud of and that our customers are excited to be moving in to.
Why Story Homes?
I wanted to work for a quality developer and it was important that I worked for a company who shared the same passion and values for customer service as I do. After visiting the website I was impressed to see that the company had achieved the 5 star builder accolade for the last four years based on customer satisfaction. I decided that Story Homes was for me.
What do you hope to achieve with Story Homes?
I have joined at a very exciting time as they roll out their ambitious growth plan to deliver a record number of homes this year and also expand across the North West in to South Manchester and Cheshire. I love working in sales and enjoy being a sales executive. I have a lot of experience in the property industry and continuously look at ways to expand my skills. I hope to develop a career with Story Homes and looking at opportunities to move up the ladder within the sales team.
For further information about our homes at Ash Tree Park and Greengate Meadow in Kendal, please call in to our Ash Tree Park development open Thursday to Monday from 10.30am to 5.30pm.