Neighbours at Story Homes' Turnstone Park development in Carlisle get on so well they now share babysitting duties and host regular cookery nights.
Four families from the leafy estate on the edge of Carlisle share a WhatsApp group and can regularly be found cooking for each other and sharing the school run duties.
Danny Fowler, who runs his own photography business from home at Turnstone Park, says his family are lucky to have such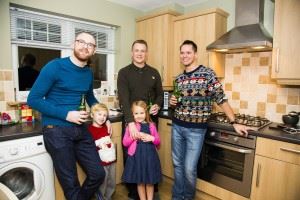 good neighbours.
He explained: "There's a cluster of us on the development who are close to each other and we started hosting regular nights about a year ago.
"We're just a really neighbourly group and there isn't much we wouldn't do for each other. For instance, we all share in doing the school run and some of the guys have helped me with DIY – because I'm useless!"
Danny, who has lived at Turnstone Park since its completion about six years ago, said some of the group are now planning to do the Coast to Coast cycle ride together.
He added: "We tend to get together and cook food for each other, and we alternate between each of the houses. Christmas Eve was a really nice night, but I think there were a few sore heads the next morning!
"All the kids get on so well, and that's what really makes it work so well. We just get on like a family. If you're running late from work you can always make a call so someone can be at the kid's school.
"When we first moved here, we didn't know anyone, but since we've had Harry, my son, and Olivia, my daughter, we've really got to know other people here, and I think we're lucky to have such good neighbours."