Story Homes has appointed a new planner to help boost land acquisition in the North West.
Siobhan Sweeney from Oldham, joins our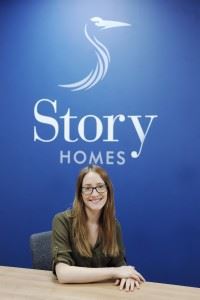 Land and Planning Team at our North West base at Ackhurst Business Park in Chorley, as part of an on-going recruitment drive.
We have a growing number of residential projects in the region, with a number of new homes either already under construction or well advanced in the planning process.
Siobhan who has a Masters in Town Planning from the University of Sheffield and is RTPI chartered, has over three years' industry experience, she said: "I'm delighted to have joined Story Homes at this stage of their development, and I am particularly excited by the plans for the region.
"The business is in a strong position with substantial plans mapped out for the future, and acquiring the right sites is crucial to ensuring the business continues to grow.
"I am looking forward to getting stuck into to project managing sites that are already going through the planning process and seeing houses delivered.
"Having become very familiar with Story Homes I am very pleased to be working for the company. The homes are of a very high quality, offering much more than your standard new property, and the business has a great ethos."
Siobhan is one of ten new members of staff to have recently taken up positions at the house builder's Chorley office.
Story Homes currently has eight sites underway in the North West across Central Lancashire, Fylde, South Lakes, Ribble Valley, Lancaster and Wyre.
Speaking about Siobhan's appointment North West MD Sue Warwick said: "We are delighted to welcome Siobhan to the Story Homes team at Chorley. We have recently recruited nine new members of staff, and we are looking forward to welcoming more people of Siobhan's calibre and talent in the coming months.
"The business is in a strong position, with our operations across the North West going through a period of rapid expansion. We currently have eight sites underway in the North West and have more coming in Lancashire, Manchester and Cheshire in the coming months."