MEET THE ARTISANS MAKING LANCASHIRE DELICIOUS  
From micro-brewers to bakers, chutney champions to cheesemakers, local food producers are proving that the North West can take on the world when it comes to flavour.
FROM CORRIE TO CHEESEMAKING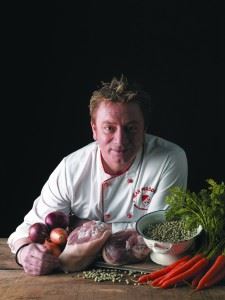 For 21 years he was Coronation Street favourite Martin Platt – but now Sean Wilson is living his dream to be an artisan food supremo thanks to his Saddleworth Cheese Company.
Based in Preston, Sean and his team make prize-winning cheeses including Muldoon's Picnic, How's Yer Father and Smelly Ha'porth. "There is an inherent integrity with locally-sourced produce," he says. www.saddleworthcheese.co.uk

CHEFS TURN TO CHEEKY CHUTNEYS
Between them, chefs Robert Weekes and Paul Ainscough have more than 50 years of kitchen experience – so it's no wonder their tasty condiments are going down a storm.
Their FatJax Cheeky Chutneys and relishes are made by hand in Preston without artificial colours and preservatives – but they do include a lot of love…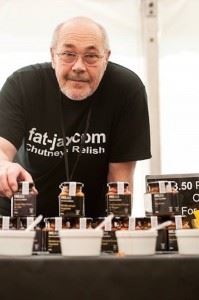 "Our Bengal Pineapple chutney has just won a gold star in the Guild of Fine Food's Great Taste Awards, so we're really proud of that," says Paul. They're available at foodie fairs. www.fat-jax.com
PUTTING THE MAGIC INTO CHOCOLATE
When Susan Anderson was made redundant, she knew exactly what she wanted to do next – and trained as a chocolatier under the industry famous John Slattery of Manchester.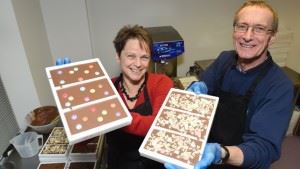 Her husband Malcolm followed her into the company after a couple of years and now Chocolate Magic of Mawdsley, Lancashire, does sweet business at food fairs and in delicatessens, restaurants and other retailers across the North West.
"Salted caramel chocolate and our chilli chocolate are going down particularly well at the moment – but it does vary from month to month and we're changing all the time," she said. www.chocolatemagic.co.uk
A SLICE OF THE GOOD LIFE
Craig and Julie Dugan started All You Knead artisan bakery with an all-night baking session in their own kitc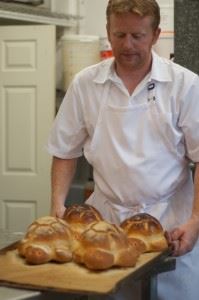 hen – but now they've grown into a successful micro-bakery turning out delicious freshly-baked products that also go down well at food fairsand farmers' markets.
Their deli and bakery, The Pantry, at Botany Bay in Chorley stocks local honey and relishes, Lancashire cheeses and Italian delicacies including pannetone, pasta and pesto.
"We've just been acknowledged by Lancashire Life as one of the ten best artisan bakers in Lancashire," says Craig. www.allyouknead.co.uk
DOING IT ORGANICALLY DOWN ON THE FARM
Gazegill has been farmed by the Robinson family for nearly 500 years and the current custodians Emma Robinson and Ian O'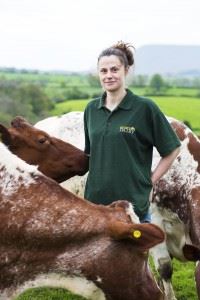 Reilly carry on the heritage, grazing their Old English Shorthorn cattle on rich meadows that contain up to 50 species of plant and flower.
With a farm shop selling everything from edible herbs to award-winning milk, organic meats, cheeses and other delicacies; Gazegill also runs an education programme to spread the word about sustainable farming.
Ian says: "We are open for visitors and love people to share our little natural oasis – and we're always happy to show people around." www.gazegillorganics.co.uk
BREWING GOES BACK TO SCHOOL
The Old School Brewery was founded in 2012 by Ian Walsh and Ren Wallbank and sits at the foot of Warton Crag in North Lancashire.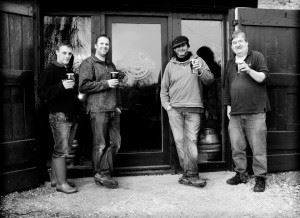 Initially something of a hobby, the brewery grew into something much more, and now delivers to a huge variety of pubs and bars across the Cumbria and Lancashire area as well as selling directly to the public and holding events at the brewery.
"We're producing more beer than we ever thought imaginable," said brewery manager Sean Fletcher. www.oldschoolbrewery.co.uk
THE DUCK THAT FINDS ITS WAY INTO PUBS
Ben Croston used to make home brew as a hobby – but now his successful micro-brewery at Poulton-le-Fylde in Lancashire turns out almost 300 pints a day that are sold all over the UK.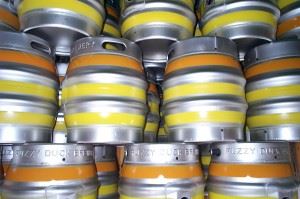 Ben (who was given the name for his brewery by a friend in the pub) regularly brews five real ales including Mucky Duck and Pheasant Plucker as well as three specials.
Golden Cascade, a gold-coloured ale brewed with Cascade hops for a citrus flavour and a floral aroma, is his best seller.
He says: "We sell wholesale, so you can find us in pubs all over, but we also sell bottled beers direct." www.fuzzyduckbrewery.co.uk