First-time buyer and former Story Homes apprentice, Ross, has become the latest of the housebuilder's employees to move into their own Story Home. Ross, who completed his apprenticeship six years ago and has worked at Story Homes' Summerpark development in Dumfries ever since, purchased a three-bedroom semi-detached Roslin on the site with his fiancé Megan.
The couple were both living with their parents while they saved up for their first home together, and in early 2016 they began their search for a property. They were primarily starting their search to understand what they could afford, but also to gauge what they both wanted from their first home in case their expectations were vastly different!
Megan went on to comment: "I needed some convincing to go and see the show home. I wasn't sure a new build was really for me, but from the moment I walked in, I didn't need any persuading!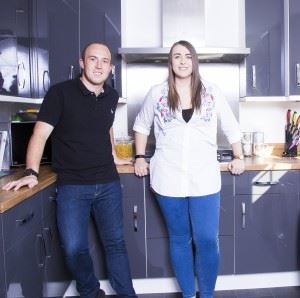 "It felt so light, bright and spacious. Plus, all of the choices available for the kitchen and the bathroom were excellent and we wouldn't need to do any DIY! I've really enjoyed flicking through all the options available to us and spending hours on Pinterest designing our home."
The couple paid their deposit in February 2016 and moved into their 3 bedroom semi-detached Roslin in the summer of this year.
Ross commented: "I want to say a big thanks to the team – it feels a little bit more special that my friends and colleagues built my first home.
"I've loved watching it go from a square of ground to what it is now, and popping by every day to see the progress. It's fascinating to me that we, as a group of people have the skills to create such a high quality, beautiful home. I'd not really thought about it too much before, but our homes really are handcrafted by me and my colleagues and I'm proud of that."
Site Manager, Jim Robison, said: "It's been a real pleasure building Ross's home. It's not that he has had any special treatment, but he has naturally been more involved than the average customer. It became a bit of an 'in-joke' when he popped in to see how his house was getting on and inspecting everyone's work! It's been a pleasure and it's testament to the quality of our work that so many of our colleagues want to live in our homes."
Summerpark is an exclusive development of three and four-bedroom high specification homes in Dumfries.
We will be opening the doors to our new show home, a four-bedroom Newton, on the weekend of 15 September. The show home is open from 10.30 until 4.30 daily at Summerpark, Lockerbie Road, Dumfries, DG1 3BN.