Story Homes are proud sponsors of 'The 20 Challenge' is a brand new event for local Charity, Hospice at Home Carlisle and North Lakeland, to celebrate a significant milestone of providing vital care and support for patients in the north and east of Cumbria for 20 years.
Hospice at Home are looking for teams of walkers to take on a challenging route covering 20 miles of stunning Lake District scenery, with 10 summits to conquer along the way. There is also an option to complete an 11 mile/5 summit route.
The event, will take place on Saturday 3rd June from Braithwaite Institute, Keswick and the Charity are asking for teams of 4 people to enter this exciting challenge.
Managing Director for Story Homes, Ian Storey, said: "Hospice at Home is a significant charity in our region which does an amazing job providing personalised end of life care, and also supporting families.  We are very pleased to support this event to help raise money and the profile of the charity – we'll certainly be entering some teams.
"We're celebrating our 30th birthday this year and over the years 'we have built up a reputation for supporting the communities in the areas surrounding our developments across Cumbria. We are proud to continue this as we further expand and are working to build up stronger relationships with our local community as we grow."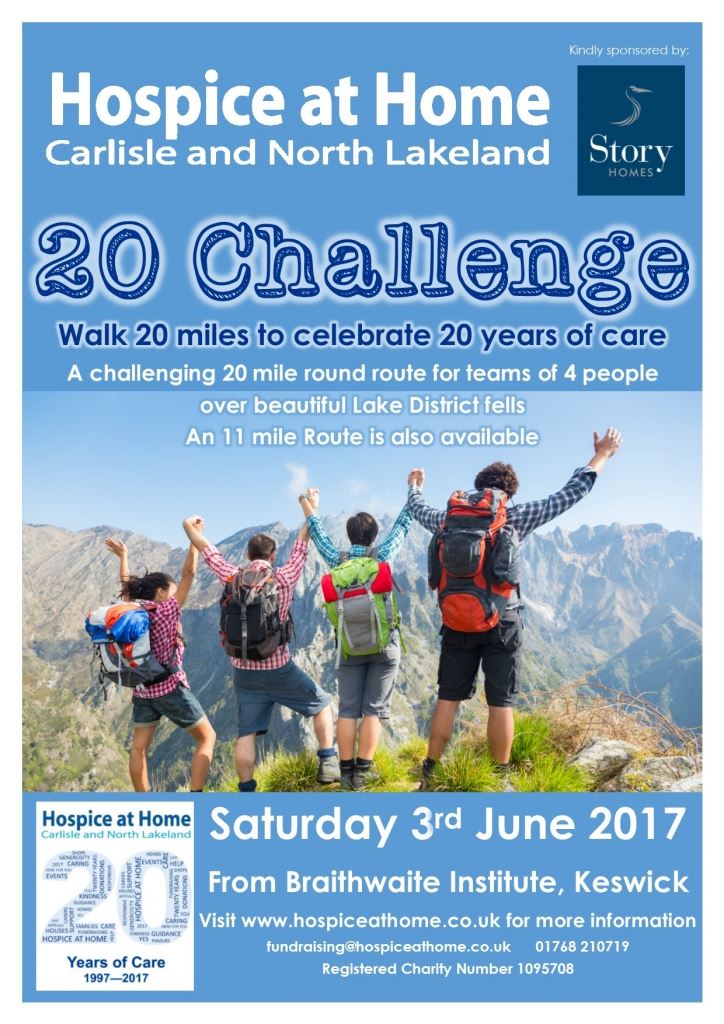 The challenge starts from Braithwaite Institute, participants will climb Catbells, Maiden Moor, High Spy, Dale Head and Robinson in the morning and a refreshment stop will be provided at Buttermere. The afternoon will feature the conquering of Whiteless Pike, Wandope, Crag Hill, Sail and Barrow before a triumphant arrival back to Braithwaite Institute, to a warm welcome of well-deserved refreshments kindly provided by the local Keswick Volunteer Team.
Julie Blundell Fundraiser for Hospice at Home said "This is a large fundraising and exciting challenge and we couldn't do this with the many Volunteers who are helping and giving their time, one such Volunteer is Sheena Hoggarth from Penrith who is helping with marketing and raising awareness of this 20th Anniversary Event.
"Sheena became involved when made she made contact with the Charity to offer her help and support.  She sadly lost her husband Stephen last year from a brain tumour and the Hospice at Home Clinical Team gave vital help.
"She is passionate to ensure this challenge will be one of which the community remember as the Flag Ship 20th Anniversary event and raise great funds which will provide numerous hours of nursing care. "
The Charity is proud to have been providing this vital end of life care for the past 20 years and are really looking forward to this special occasion to mark this achievement.
Request your 20 Challenge information pack and help patients of the future please call 01768 210719 or email fundraising@hospiceathome.co.uk