A Carlisle couple jumped at the opportunity to buy a new Story Home at The Grange, Dalston as soon as they went on sale.
Sarah and Geoff Haugh attended the exclusive launch event knowing exactly which plot they wanted for their new home. An early bird reservation was made and Sarah and Geoff were able to sit back and wait for their house to be built.
Geoff, 55, said: "We visited a Story Homes' development about six or seven years ago, Turnstone Park in Carlisle, and we were really impressed with the quality of homes.
"The quality of a Story Home really stayed with us and as soon as we found out that a development was planned for Dalston we knew we wanted one. We've wanted to live in Dalston for a long time."
Sarah, 45, a finance manager said: "We reserved our home on the Wednesday and on the Saturday we visited the show home at Lancaster as it was the same house type as the one we were after. In fact, I have now visited every show home on every development!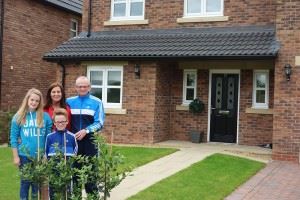 "The virtual tours on the website are also great for giving you a good idea of your new home if you're buying off-plan – I watched them a lot!
"The staff at Story Homes really kept us up-to-date with the build of our home. They visited us on the day we were moving in, which was a really nice, welcoming touch. The staff were great."
Geoff, Sarah and their children, Gabriella (14) and Charlie (10) moved into their five bedroom 'Mayfair' in June 2015 and are enjoying the benefits that their new home brings.
Sarah said: "The family room really sold it to me and that's where I spend most of my time. It's a great place and the heart of the home."
Geoff is a Health and Wellbeing Coordinator at the city's Sands Centre and enjoys the outdoors life with his family, he said: "We have wanted to live in Dalston for years, as our lives have become really centred around the village. We cycle and walk a lot in the surrounding areas. The village has a doctor's surgery, a dentist, great bus routes and a train station. It's a bustling village with a vibrant life and great community feel.
"We chose our plot as we wanted the perfect house. We aren't ever going to move again and we had to find just the right house – we're really happy now."
The Grange is situated in the picturesque village of Dalston, just outside Carlisle. The village is very much a desirable to place to live, with many amenities including a supermarket, pub and excellent schools. For further information on our high specification homes, click here or phone 07811 986005.