Jess is one of the assistant quantity surveyors based in our Lancashire office in Chorley. She is an integral member of the commercial team, who has an eye for detail in identifying and assessing trade and contractor requirements to meet our ambitious business plan. We caught up with Jess to find out more about her and working for Story Homes: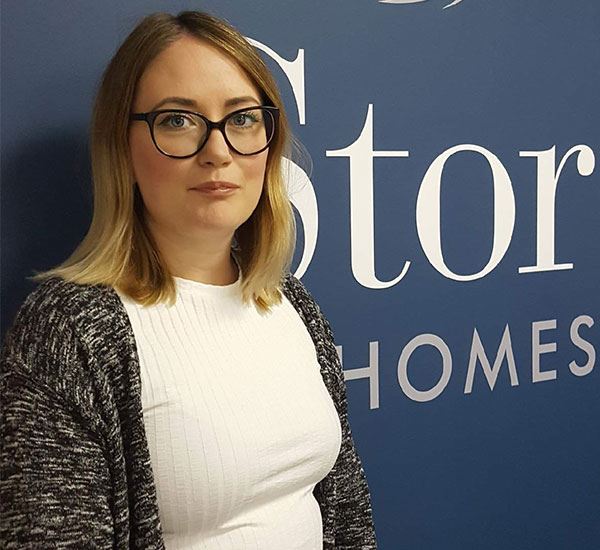 When did you start working for the company?
I joined Story Homes' North West team in April 2017, previously working for a national house builder as a commercial management trainee. I wanted to join Story Homes as their values and culture really fits with my ethics – to work somewhere where I felt valued and that my contribution makes a difference. I work in the commercial department reporting to the head of the team Tim Farnworth.
What you are responsible for?
I manage the costs of a development from setting the site start budget, tendering to subcontractors ensuring the quality we expect and value for money is achieved, plus cost reporting throughout the lifecycle of the site right through to final accounting. It's a really interesting role and we deal with each development from the start to the end.
How did you get in to your role as a quantity surveyor?
I began my career as building surveyor. When I graduated the industry was still recovering after the recession. There were more opportunities for quantity surveyors, so I decided to look into this area of work and complete this for my Masters. I then joined a national house builder working in their commercial team.
What is your typical day like?
It really does vary. If I'm out on site I can be in meetings with site managers or subcontractors to discuss any commercial issues, or I am valuing works completed on site to feed into Cost Value Reports. If I'm in the office I manage the development budgets, process monthly ground worker applications, issue variation instructions to subcontractors and maintain subcontract orders. It's really busy and we work on specific developments so it's good to get to know the site teams and develop our relationship with our contractors.
What do you most like about your job?
The team of people I work with, they really are an outstanding group of people with their own individual strengths. We support each other and there is always someone to offer a helping hand.
What are you working on at the moment?
I am working on one of our new sites and going through the process of getting the high-level site start budget signed off and building up the detailed budget in COINS.
What are you most proud of?
I studied for my Masters degree part-time whilst working full-time – this was a real challenge to keep sane and keep a work / life balance.
What would you like to achieve at Story Homes?
I have been at Story Homes now for six months and I'm enjoying my role. I would like to progress up the ladder with the company through to a management role especially as this region expands with its ambitious growth plan.
Jess is part of a dynamic commercial team and we have a number of vacancies across Lancashire so if you would like to join us as a quantity surveyor or a member of our site team, take a look at our careers website.