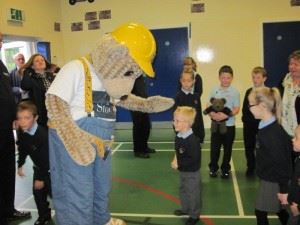 Children in High Harrington had an important lesson in site safety from a well know local character this week.
More than 300 pupils from Beckstone Primary School in High Harrington had a visit from Story Homes' mascot Builder Bear on Friday.
Builder Bear, alongside a Health and Safety expert and a tailored DVD, talked the children through the dangers of playing close to construction sites, keeping safe in traffic and the best way to enjoy watching the site progress from a safe distance.
Story Homes are currently building 60 new homes at Whins Farm Close, High Harrington, with the first homes due for completion in Spring 2014.
Sean Trodden, Health and Safety Manager for Story's said: "Site health and safety is a very important issue, not just for our staff but also for the communities in which we work. A lot of the children live close to our site or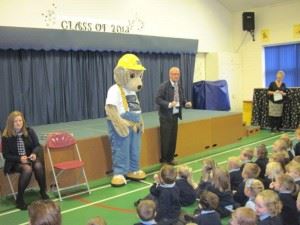 enjoy seeing the machinery coming and going. The message we wanted to get across through Builder Bear and our safety DVD and talk was that while building sites may seem exciting, children need to be aware of the dangers of playing too close."
The health and safety lesson will be followed up with an invitation for a group of the Beckstone School children to visit the Whins Farm Close site as construction develops at the start of 2014.