Carlisle Pageant creates family fun in the city
July 2013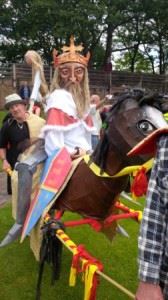 Story Homes is proud to sponsor Carlisle Pageant, celebrating the city's history and heritage through a week of community activities.
The Pageant, a free event, runs from Saturday 17th August until Monday 26th August 2013.
Families can get involved with the puppet parade and family fun day on Saturday 17th August, with face painting, street entertainers and puppets depicting key historic figures.
Local traders will be displaying their 'Best of Carlisle' produce at the special market in the city centre between Sunday 18th August and Wednesday 21st August. There will also be live music on the bandstand.
International market stalls will be in the city centre from Thursday 22nd August until Monday 26th August. An ancient annual fair proclamation at the Market Cross will take place on Saturday 24th August.
Local businesses are supporting the pageant with vouchers and other incentives throughout the week. The Pageant has been organised by Carlisle City Council and is sponsored by Story Homes.
For more information visit the City Council website or download the Pageant leaflet.