Cockermouth Wasps set for the season
August 2016
Rugby players for Cockermouth Wasps are ready for the season in their new match day tops.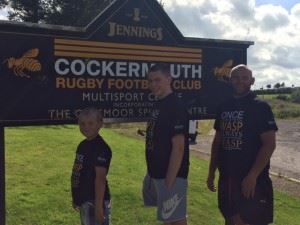 All members of the club will be arriving to and preparing for matches this season in new tops, thanks to sponsorship from Story Homes.
Cockermouth Wasps coach Chris Wright said " We're absolutely delighted. Our aim is to offer rugby to as many people in the local community as possible, and that means keeping the costs down. A big thanks to Story Homes for sponsoring us as this means our club money can go so much further!
"It's not just about the rugby, it about getting families involved and coming to social events and being part of the local community. So we're looking forward to the families at 'Strawberry Grange' joining the club!"
Ian Storey, Managing Director for Cumbria and Scotland said "A sports club is a fantastic way for local children to get their first taste of sportsmanship and competition. We are pleased to be able to support this club and its enthusiastic players and wish them good luck for this season!"
Construction is now underway at 'Strawberry Grange' in Cockermouth with the first homes due to be complete in early 2017. The onsite marketing suite is open Thursday to Monday from 10am until 4pm.