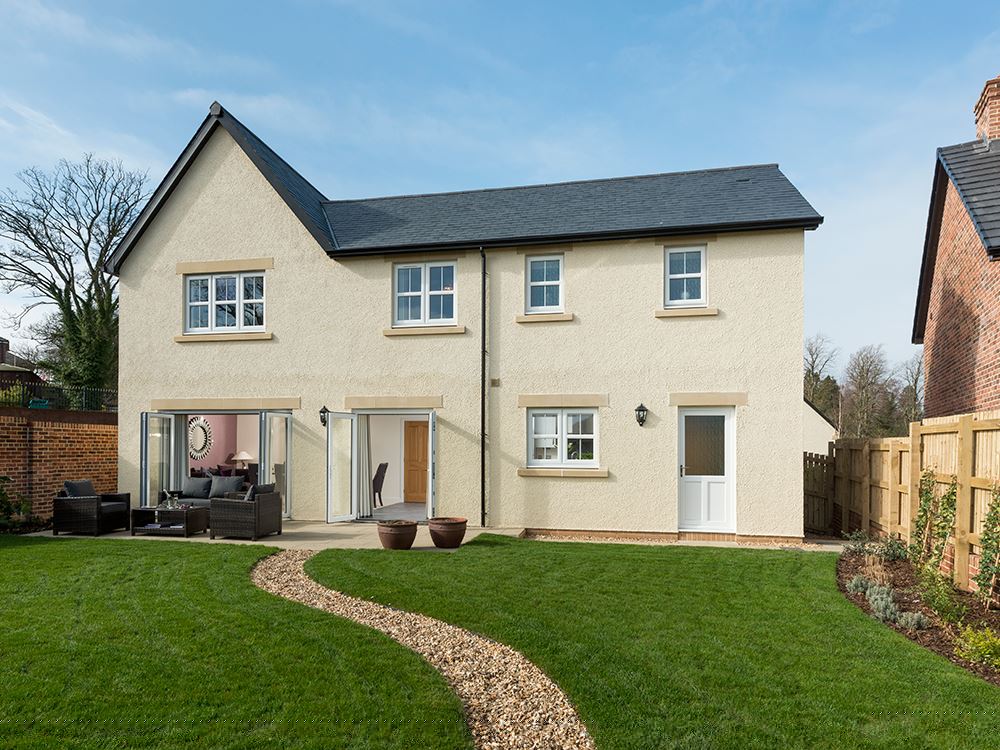 Please find below guidance on maintaining your garden during the summer and particularly in the hot weather we are currently experiencing.
As with any new build home, your garden may take a number of seasons to establish, particularly if you live in an area which has a more clay-like soil. Although we provide the appropriate amount of topsoil to your garden before we lay turf, this alone will not see your turf stay green and healthy.
Many issues which arise with lawns can be avoided through consistent homeowner maintenance, so we strongly recommend following the below advice. Useful information is also provided by the Royal Horticultural Society via their website at: www.rhs.org.uk/advice.
Looking after brand new turf
If you have recently moved into your new home:
Do not walk on the turf for the first 4-6 weeks (including pets)
Water the turf daily for at least 2 weeks after it has been laid, or 4 weeks during warm weather
Do not over-water the lawn
After the first 4-6 weeks, mow at least weekly, using a high lawnmower setting
Remove toys, furniture and equipment after using to avoid dead patches appearing
Fertilise the lawn twice a year
Dealing with leatherjackets
Leatherjackets are a natural occurrence but unfortunately their larval stages can interrupt crops and lawns. They are soil-dwelling larves or flies known as crane flies or daddy-longlegs and emerge from the soil during late summer.
Leatherjackets can be a problem as they feed on the roots of grass, causing plants to die and resulting in large patches of bare grass.
The easiest way to spot leatherjackets in your garden is by coming across the long grey/brown grubs when digging. Signs of leatherjackets can also include birds pecking at your grass or patches of grass coming away without any roots.
To deal with them, try applying a nematode treatment to affected areas after rain or the use of a sprinkler. Nematodes are natural and some will be in your lawn already, but applying more ensures they kill the grubs.
As a preventive measure, apply nematodes in September to early October. You may need to water the lawn before and after application to ensure the soil is sufficiently moist for nematode activity and survival.
Ongoing lawn maintenance
Water  – Water newly-created lawns thoroughly, provided there are no hosepipe restrictions in force. Water during early morning, evening or even night-time, rather than the hottest part of the day, to reduce water wastage from evaporation.
Watering once every 7-10 days is normally sufficient. It is important not to apply too much water. This encourages shallow rooting of the grass and promotes moss and turf diseases. Excessive watering makes the lawn less drought-tolerant in case of hosepipe bans or holidays when watering is discontinued.
For established lawns, water it once the soil becomes dry but before the grass colour changes. If the ground is very hard, aerate it by spiking with a garden fork before watering to aid water penetration.
Mowing your lawn – Raise the height of the cut in dry weather to avoid weakening the grass, and let the clippings fall back onto the lawn rather than collecting them. They will act as mulch and slow down the evaporation of water from the soil surface. Make sure the clippings are small, or they will smother the grass and cause damage.
Weeding – Pull out any weeds as soon as you notice them as they can attract pests, diseases and infections.
Don't disturb your soil – Be careful not to over-dig in hot weather – disturbing your soil will only get rid of moisture.
Be aware of what your warranty will and will not cover – Please remember that it is your responsibility to maintain your garden, and that turf would not be covered as a fault under your warranty if it was in a suitable condition when it was laid.
Our warranty does not cover wear and tear, neglect and failure to do the appropriate maintenance. We also cannot cover storms and severe weather conditions, flooding and changes in the water-table level and these should be insured by the homeowner personally.
*Please note that Story Homes has placed a hold on the laying of all turf due to the hot weather, ground conditions and risk of a hosepipe ban. If you are due to move into your new home in the very near future, your Sales Executive will be in touch to update you. We are assessing this situation on a weekly basis.