Nearly 100 people attended the exclusive launch of Story Homes' third development in Kendal, Greengate Meadow in Levens.
Two homes were reserved at the VIP event and five customers put down early-birds to secure homes further in to the build of the development.
We were pleased to welcome so many prospective buyers to the invite-only launch event at Castle Green Hotel in Kendal. The two families reserved the popular four-bedroom detached Boston house type. This is one of the eight house types featured on this highly anticipated development – the collection includes two, three, four and five-bedroom homes that provide up to 1,905 sq ft of living space.
Anne Jago, aged 72, camped out overnight to be first in the queue to view Story Homes' latest development in Kendal. Anne knew she wanted to buy a four-bedroom detached home and decided on the Grantham housetype due to the its location on the site as it will have beautiful countryside views.
Anne has lived in Levens for more than 10 years and wanted to stay in the village. She said: "I had to be first in the queue as I knew exactly which plot I wanted to put my name against. I turned up at 1.30am and the hotel really looked after me during the night.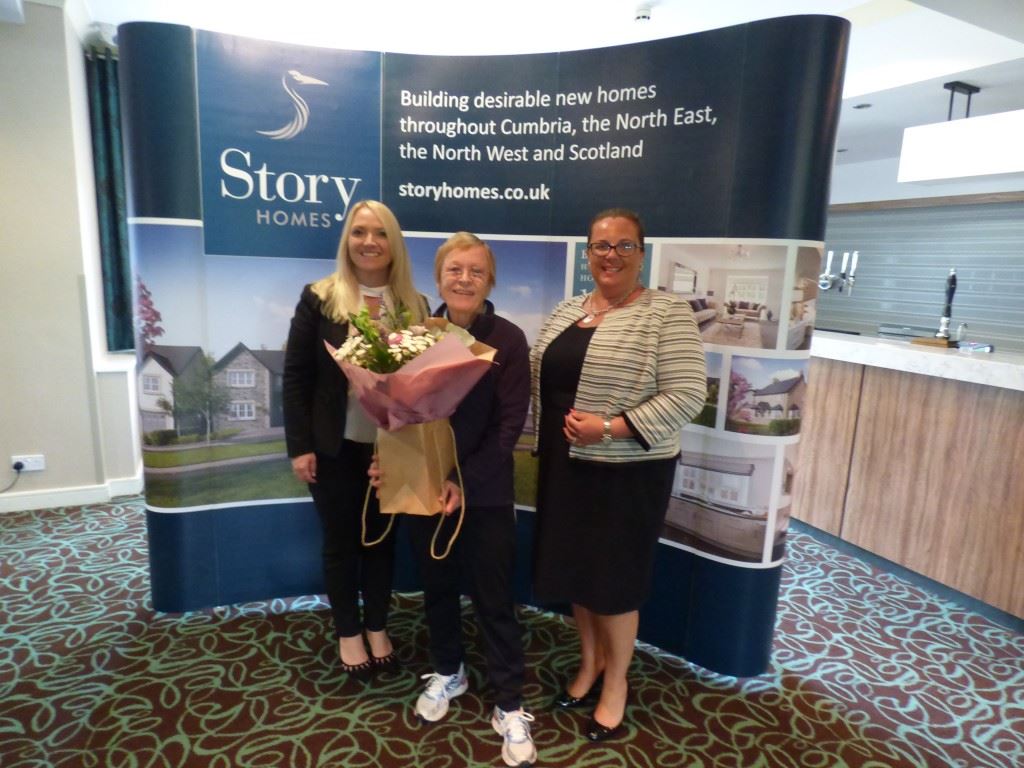 "I had already looked at development during the planning process and kept my eye on the website to track where it was up to. I knew that I wanted the Grantham housetype as it was in the right location on the development. I am thrilled that I was able to secure this, even if it is later into the development.
"I want to stay in the village as there is a thriving community and everyone really does look after each other – there is so much going on in Levens and it has great access to Kendal and the railway network. I currently live in a three storey home and knew I wanted to buy a new build Story Home on two levels. Looking at everything that comes in the homes as standard is amazing and there is so much choice. I am looking forward to choosing my tiles and kitchen units, and turning this house in to my home."
Based just off Greengate Crescent it is an extremely sought-after location. The development is located in the beautiful village of Levens, which is only four miles south of Kendal and everything the Cumbrian town has to offer. There is something for everyone at Greengate Meadow with a thriving community spirit with a wealth of sports and events all organised by a small group of villagers who look after the playing field and pavilion. Daily essentials are available in the village with larger stores and supermarkets located in Kendal.
The homes are finished in a mix of high quality stone and render, while interiors include AEG integrated appliances, bi-fold doors, turfed rear gardens, and bathrooms with fitted vanity units and Porcelanosa tiles.
Sales manager Clare Wilson said: "We expect this development to be popular as we have a lengthy list of people who had pre-registered their interest in our homes. We are delighted with the launch event and for someone to camp out from the early hours shows how popular Greengate Meadow is.
"It was fantastic to secure two reservations at the event and to have five families already show interest in the homes which haven't been released yet. It really shows how popular this development is.
"Greengate Meadow combines all the benefits of village life with excellent transport links for commuters across the Lake District and the North West, so it's not surprising that there has been such a high level of interest. With our marketing suite now open at Ash Tree Park, we look forward to introducing even more families to the high specification finish and extras included as standard in our homes."
Our marketing suite for Greengate Meadow is based at Ash Tree Park in Kendal and is open Thursdays to Mondays from 10.30am to 5.30pm.