Eden developments are examples of successful planning
September 2013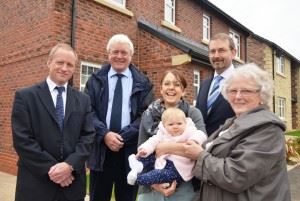 Two of Story Homes' successful developments in the Eden District have had a visit from a group of local authority VIP's.
Eden District Council's Planning Applications Committee (PAC) toured Birkbeck Gardens in Kirkby Stephen and Clifton Hill Gardens in Clifton near Penrith. The committee were keen to learn more about how the developments are helping to enhance and sustain the area.
Councillor Michael Slee, Chairman of the PAC said: "It is very important for committee members to have a good knowledge about the quality and types of development that are taking place in the District. We also need to garner people's views about these developments and recognise the important role planning plays in promoting good quality design and sustaining the local economy.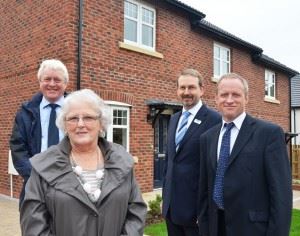 Quality developments help to sustain jobs and the local economy, as well as supplying much needed private and affordable housing. CBI Research shows that every £1 spent in the construction industry generates a £2.84 multiplier of additional benefit for the UK's economy. In Eden District 16.7% of men are employed in construction, compared to 12.8% nationally, so it is the biggest source of employment for men compared to other sectors.
Birkbeck Gardens has been popular with buyers of private market housing looking to get on to the property ladder or move up the property ladder. The development in Kirkby Stephen has also delivered a number of high quality affordable houses to the town, built by Story Homes and managed by a Registered Social Landlord. The site is also providing employment and business opportunities  for local brick layers, tradesmen and suppliers of materials.
Steve Errington, Managing Director of Story Homes said: "Demand on the developments in Clifton and Kirkby Stephen has been high and we have recruited local staff and sub contractors to help us deliver these much needed homes and our quality product, which is sensitive to the surroundings. We have a reputation for providing high quality private houses and we are proud that we can retain this quality in our social housing. Both developments complement and enhance the sustainable credentials of these key and local service centres, whilst delivering much needed open market and affordable housing within the Eden District."
Click the links for more information about Birkbeck Gardens in Kirkby Stephen or Clifton Hill Gardens, Penrith.