Encouraging the Bright Stars of the future
February 2015
Bright Stars is a competition ran by the Centre for Leadership and Performance which engages primary school children in leadership and entrepreneurship. The competition started on 19 January when the schools were given £50 and they have until 9 March to grow this amount through investment and creativity. The school which raises the greatest amount is given a cash prize of £1,000 to donate to the charity of its choice.
Story Homes is a proud sponsor of two Carlisle schools: Petteril Bank Community School and Newlaithes Infant School.
Shelley Hayward, Learning and Development Manager at Story Homes visited Petteril Bank Community School on Tuesday 27 January: "Story Homes has always championed local causes and this competition encourages adults of the future to take full advantage of opportunities that are available to them and learn new skills."
The Year 5 and 6 children are well on their way to planning and developing their business and are really hoping to win the competition. They are going to design five mini kit cars which will be raced against each other at a special event, which they will also organise in a bid to further their profit.
There are five teams, each with a Team Leader, Designer, Driver, Mechanic and PR person.
The skills which each team member will have to put to use are immeasurable. This is treated as a real-life business proposal as they have to write business plans, pitch to local businesses for sponsorship and then arrange the race event itself.
Jack Watson aged 11, was assigned the role of overall Treasurer and keeps a tight rein on the money. He is very aware of how much has been spent and the importance of making a profit in business. He says: "I've been a Treasurer before on another project so I have plenty of experience. We have set a target for the amount we would like to make – we want to raise the biggest amount ever!"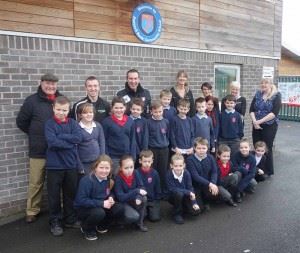 Jess Dalgleish, 11, has been designated Team Leader of her team and sees her job as: "Telling the rest of the team what to do, but not being too bossy." Will this attitude see her team to victory? Let's hope so.
The children will be looking to the staff of Story Homes to help them pick up the business skills they will need to succeed. Shelley was greatly impressed by the children. She says: "We are going to be giving them some hints and tips on how to run a business. This opportunity is not just about handing over sponsor money, but is to help the children grow and develop along the way, leading them to success."
Sarah Lee, teacher at Petteril Bank Community School says of the competition: "We at Petteril Bank Community School are always looking for new challenges and ways to stretch our minds and imaginations. The children have a competitive spirit, lots of ambition and an eagerness to excel, hence why this project was right up our street!
"Taking part in this competition is so beneficial and rewarding for our children a lot of whom live in this area of high unemployment and deprivation. It not only raises their aspirations but also develops their confidence and self belief. It encourages our pupils to develop skills in teamwork and leadership and also develops an interest in employment and careers and fosters the concept of self confidence and ambition for their future."
If they are victorious, the charity of their choice is CFM Cash for Kids: a locally-based charity which helps disabled and disadvantaged children in Cumbria and South West Scotland.
Rachel Rudd of the Centre for Leadership and Performance is working with several schools on the project and says: "It was great to see the children so inspired and enthusiastic about their business idea. And what a fabulous idea it is – they are showing real innovation. I can really see the benefits of this business idea – how many children of that age can say they have made a 'pitch' to real business people? It has got to be good experience for them for future interviews."
The winner of the Cumbria-wide competition will be announced on 16 March.
Our next update will feature Newlaithes Infant School and their bid in becoming a winning team.
Our website has lots of information about how Story Homes has helped communities in the past.