First look at Warwick show home decked out for Christmas
October 2018
It's beginning to look a lot like Christmas inside Story Homes' Warwick show home in Cottam, which has been dressed by award-winning landscape team from North West garden centre Barton Grange. There's never been a better time to view homes at Waterside in Cottam.
As the festive season is fast approaching, we are holding an exclusive Christmas weekend at Waterside in Cottam, on Saturday 13 and Sunday 14 October. Prospective buyers can view our first Christmas show home and get expert advice from experienced sales executives and independent financial advisors.
The event is open to anyone looking for a new house in the area and aims to show people how a range of schemes can help those unlock the door to a brand new Story Home. Independent financial experts will be on hand to help buyers through the buying and mortgage process.
There are a range of schemes designed to help those who are struggling to sell an existing property – the HOME scheme and Part Exchange where Story Homes acts as a guaranteed buyer so there's no risk of the sale falling through and no further delays to the house buying process. There's also Help to Buy and a range of incentives available to help prospective buyers get on the property ladder.
There's a selection of homes which are ready to move in to for the festive period on the highly sought-after development, located only a few miles from Preston city centre. Buyers are being urged to reserve their home by 31 October to ensure their home is wrapped up in time for Christmas and avoid missing out on one of their homes in Preston and across the North West.
The Warwick has been decorated to showcase what Christmas could be like in a Story Home. It is an impressive four-bedroom detached home has been dressed in white, gold and bronze. Open the door to the impressive hallway with its gallery staircase dressed in festive garlands. A luxurious 7' Christmas tree is the showcase in the window in the lounge with the two dining tables dressed with festive sprigs and garlands.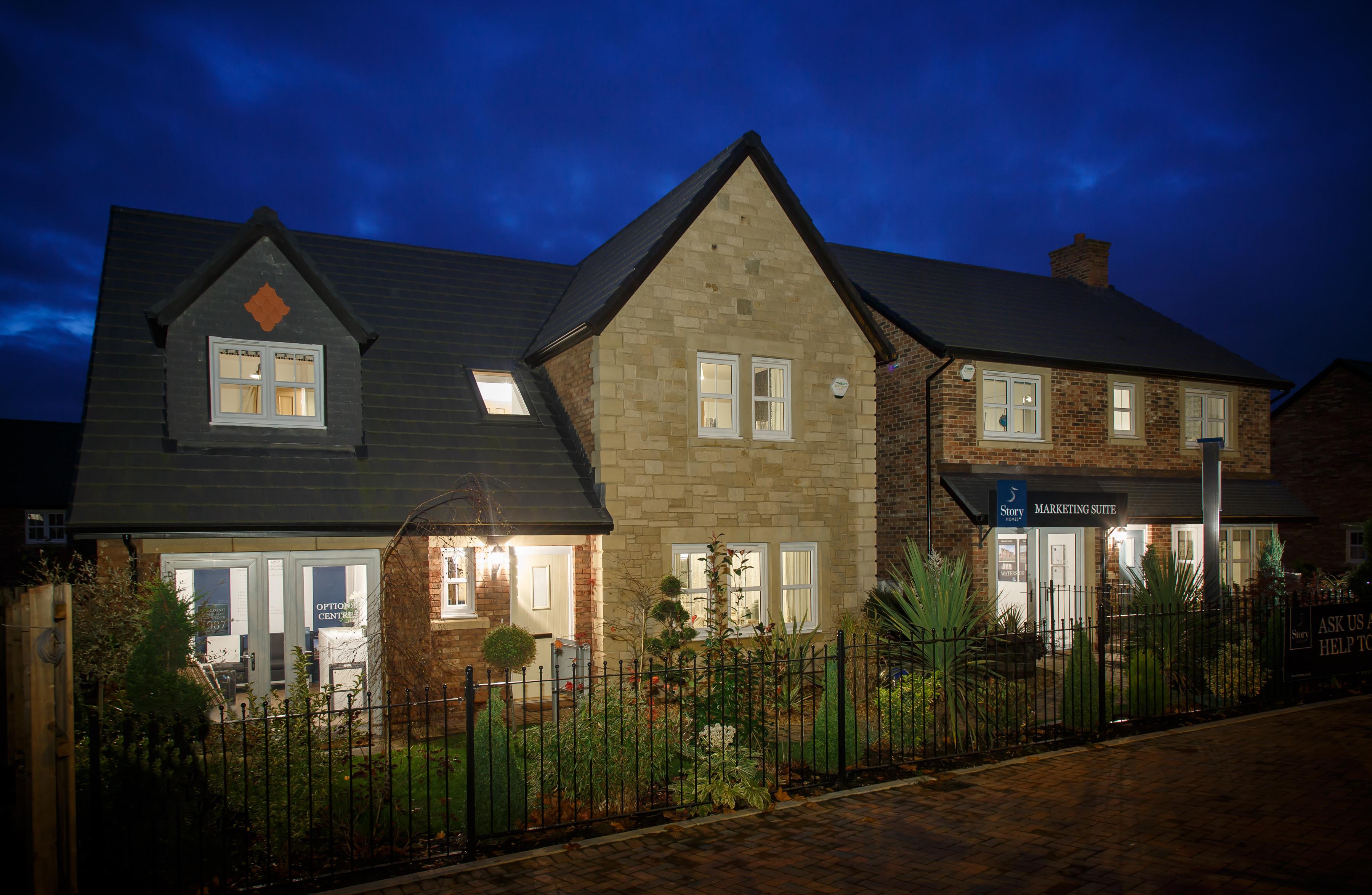 Sales Manager Clare Wilson, said: "Waterside is a highly-sought after development in Cottam, which has proved to be very popular with buyers. We're delighted to work with Barton Grange to showcase how the four-bedroom home will look dressed in a festive theme giving a real insight into how you can spend Christmas in a new Story Home.
"There's a wonderful community spirit, and when Christmas arrives it will be the perfect development for young and established families. We're urging prospective buyers who are looking to move in time for Christmas to come to our exclusive festive show home event this weekend.
"It's a great time to take a look, room by room what Christmas could look like living in your own Story Home. With a range of schemes and incentives available, there's never been a better time to reserve a new home and move in before Christmas."
Prices at Waterside start from £249,995* and to celebrate the launch of the new Christmas show home, we're offering customers a wide range of bespoke incentives* to choose from, including:
Allowance towards deposit
Stamp duty paid
Flooring package
HOME scheme
Part Exchange
Help to Buy
Contribution to legal fees
With a range of three and four bedroom homes ready to move in to and a selection of incentives available for buyers to take advantage of, there's never been a better time to view the development and also get expert advice from our experienced sales executives and independent financial advisor.
To find out more and view our first Christmas show home, join us at Waterside this weekend (13 and 14 October) from 10.30am to 5.30pm, meet our experienced Sales team and enjoy a glass of Baileys, a selection of Christmas treats and hot refreshments.
* Prospective purchasers are able to choose from a range of incentives, subject to specific plot, eligibility and terms and conditions.