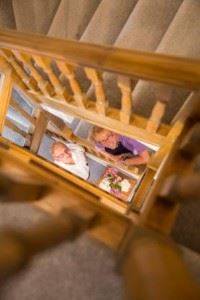 No doubt many of you will be breathing a sigh of relief that the holidays are over and a level of normality can resume.
The children have inevitably outgrown their clothes over the summer, but did you feel like they've outgrown your home as well? Maybe it's time to move and all have your own space.
What do you need?
A separate space for the teenagers? A play room that can spill out in the garden? An extra bedroom? Faster broadband? A granny flat? A townhouse at Crindledyke Farm was the solution for George and Deborah Seward and their sons Elliot & Oliver.
New residents George and Deborah Seward who moved from Hethersgill, are delighted with their new home. Fed up with driving the children into town in between doing jobs on the house, it was time to for a change.
"A townhouse offers us the flexibility and space we need now our family has grown up. Elliot our eldest has got his own bedroom, living room and bathroom on the ground floor.  He sometimes even graces us with his presence for dinner on the middle floor!" George explained.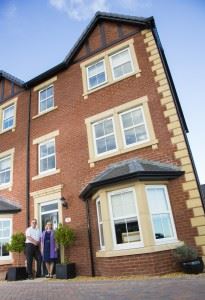 Deborah added  "We've not only bought a new home, we've actually bought time! Now that we're in Carlisle, we're not being a personalised chauffeur service, the boys can get the bus. This has given us loads of time to do what we want, which we are spending in the garden, or walking the dog. I saw some deer in the field just the other day."
Jane Graham Sales Executive at Crindledyke Farm explained: "The 'Linden' is perfect for a range of different buyers. The ground floor could be two bedrooms, or a bedroom and a play room, a music room, lounge or self contained apartment. The first floor features a kitchen dining space and a spacious lounge (or another bedroom if the lounge is downstairs) and then a three further bedrooms on the second floor, which could also be your master bedroom and the adults living room.
"The options really are endless."
To get a better impression of this beautiful home for yourself  visit our show home at Crindledyke Farm, Carlisle.  It's open Thursday to Monday from 10.30am – 4.30pm. For further information call 07970026183 or look at the development on our website.