Kind hearted Story staff choose local hospice as charity of the year
May 2013
Story Homes and sister company Story Contracting officially launched their new charity of the year partnership this month.   Staff at the two companies have chosen to support Eden Valley Hospice, based in Carlisle.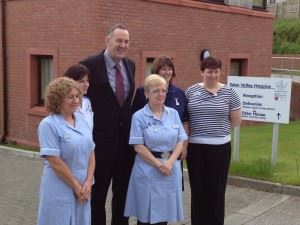 The hospice opened in 1991 and cares for adult and children patients from Cumbria and South West Scotland with life-limiting illnesses including cancer, motor neurone disease, muscular dystrophy and multiple sclerosis, heart failure, chronic lung diseases, renal failure and chronic neurological conditions. They also extend support, help and counselling to families, friends and carers of patients. The Hospice helps its patients enjoy a better quality of life, often enabling them to do things which they thought had gone forever. However, the annual cost of providing the service is now approximately £2.7 million, and only 25% of this is provided by the NHS.
Hundreds of pounds have already been raised by Story's through a cake sale in the head office and members of staff taking part in events organised by the hospice's fundraising team, including a 185ft zip slide at Brunton Park. Lots of other events have also been organised by both companies to support the hospice throughout 2013/14.
Story Homes and Story Contracting choose a charity of the year annually and have previously raised money for a number for local charities, including more than £3,600 for Hospice at Home in 2012/13.