She's been the nation's sweetheart since she won the Great British Bake Off –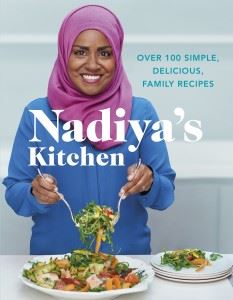 and super-cook Nadiya now juggles a busy life that combines being a wife and mum of three with being a celebrity columnist and recipe guru.
She recently baked an orange drizzle cake for the Queen's 90th birthday, and she'll soon be presenting her own two-part travel show, The Chronicles of Nadiya, which will take her from her home town of Luton to her family village in Bangladesh.
And as if that wasn't enough, Nadiya is about to bring out her first recipe book. Here, she tells Story Living how she feels about being one of the busiest cooks in business.
You've shot to fame as the Bake Off winner, of course, but what are your earliest memories of baking?
My earliest memory of baking is when I did my first lesson in home economics with my teacher Mrs Marshall.
As a keen baker and a mum, is your kitchen your favourite place in the house?
My kitchen is my favourite place, without a shadow of a doubt. The other place has to be the main bathroom – I have to say I am a massive fan of a bubble bath!
What's the best thing about your kitchen?
The best thing is that we all congregate in the kitchen. It has the nicest atmosphere, and always the nicest smells.
Tell us about your new book, Nadiya's Kitchen – what's the inspiration behind your delicious recipes?
My new book is exactly what it says on the cover. My kitchen inspired the book – my kitchen and all the things I love to cook and bake for the family. It varies from chapter to chapter and the recipes are so different. I have chapters ranging from Lazy Sunday Mornings to Dinner Date and Midnight Feasts to cover all tastes.
What's the favourite meal that your family – husband Abdal and your three children – like you to cook?
One of our favourite meals has to be an Irish stew with lemon thyme and sourdough.
You must be having an incredibly busy time since you became the Bake Off champion – is home still the best place to relax?
Home is definitely my haven. Although I have to work at home now too, it's still the place where I can close the door and be in the safest place with the people I love the most.
Everyone found your can-do attitude inspiring when you won the Bake Off. Where would you like to see that attitude taking you in the future?
I never saw this happening post-Bake Off. I never imagined I would have any of these opportunities. So all I can hope for is that I continue to get these chances and that I can do this for as long as possible. I would love to see all the decisions I have made go from strength to strength. As long as my can do attitude can rub off onto my children, I'm a happy mum.
5 THINGS YOU NEVER KNEW ABOUT THE GREAT BRITISH BAKE OFF
1. Anyone over 16 can enter – as long as they are not commercial bakers or professional chefs.
2. Applicants are assessed by a researcher, then do two bakes in London followed by a screen test and interview.
3. More than 50 people work on set – and eat the cakes!
4. Contestants often put in 16 hour days filming – but only at weekends.
5. More than 1,400 eggs are used in each series. Cracking!