Planning application for Maryport homes approved
June 2013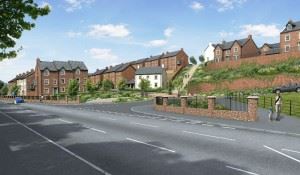 Story Homes' application for a new development in Maryport has been approved subject to final government confirmation.
Potential buyers in Maryport can look forward to a high quality and high specification 152 property development off Netherhall Road in the West Cumbria town.
Allerdale Council's development panel gave the plans the go ahead on 25th June and Story Homes' have already seen a large amount of interest from potential buyers.
The development will contain a mix of 2, 3, 4 and 5 bedroom detached, semi-detached and terraced properties, as well as bungalows and town houses. The low density of the site allows for large gardens and green open space, and some properties will be finished with natural stone, in keeping with the beautiful surroundings.
The scheme will have a number of community focussed aspects including significant public open space, seating areas and play equipment, formal squares and a safe walking route to the nearby schools.  A number of the properties will be marketed to local residents as affordable homes and there will also be some rental properties available through a social landlord.
You can contact our sales team on 01228 404555.