Senior Site Manager Will Mills has been awarded for his dedication to building homes of exceptional quality in the annual NHBC Pride in the Job Awards.
Will has won the award, with his site team, for the management of our Willows Edge development in Wrea Green, joining almost 450 other Quality Award winners from across the UK.
Now in its 38th year – Pride in the Job celebrates the exceptional contribution site managers make in creating homes of outstanding quality. As well as undergoing spot checks on the day-to-day running of the sites, each site manager is assessed across 37 areas of site management including their technical knowledge, consistency in the build process and the quality controls they have in place.
With more than 16,000 site managers competing for these awards, this year's Quality Award winners have been hand-picked for their excellent standards on site.
Managing Director for Story Homes in the North West, Colin Wood, said: "We are delighted that Will and the site team have been recognised by the industry to their commitment and dedication to achieving these standards day in and day out on his development at Willows Edge.
"It's a rigorous judging process and only the best in the business achieve this award. This is a reflection of the high standards he and the team upholds across his site in Wrea Green, recognising his experience, knowledge and quality across the site."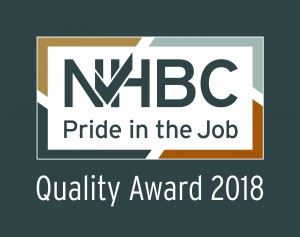 Mr Ian Davies, Regional Director for NHBC, the UK's leading standards setter and warranty provider for new homes, said: "Congratulations to Will, who should be commended for building homes of an outstanding standard in the region.
"Pride in the Job recognises site managers who produce the best quality new homes, built and finished to the highest possible standards. Most importantly, homeowners who buy a Pride in the Job award-winning home benefit from a high quality product.
"For 38 years, Pride in the Job awards has played a pivotal role in NHBC's work to raise standards across the industry through the celebration of sharing best practice.
"On behalf of everyone at NHBC, I would like to congratulate Will and the team at Willows Edge on this fantastic achievement."
Will and a team from Story Homes will attend the North West Pride in the Job lunch in October to receive his award.